TORONTO GARAGE DOOR REPAIR
We are the leading garage door repair team in the GTA. 20 years in business solving all your garage repair needs. Contact one of our on-call technicians today to repair and replace your parts ASAP.
Garage Door Repair in Toronto, Etobicoke, Scarborough & North York
Over 20 years serving homeowners and businesses in the GTA - we've seen every type of garage-related problem.  We have the skills and experience to solve your garage issues fast and for a competitive price.
Our mobile technicians are on-the-move around the GTA right now!  We not only repair and replace garage door parts but design and install features to take your garage from storage space to an extension of your home!
Custom garage door design, garage heaters, epoxy garage flooring and roll-up doors/security shutters are features that we are ready to provide for you today.
Call us now or send us a message via the contact form.  We are at your service.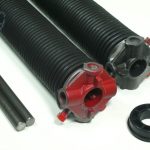 The central component of your garage door - the "torsion spring" does the majority of the heavy lifting when the door opens. The spring stores hundreds of pounds of potential energy - DO NOT attempt to fix without speaking to a skilled technician first!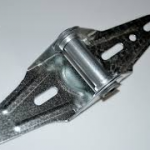 The door hinges that enable the garage door to fold away when opened.  They are subject to considerable stress and should be lubricated regularly and replaced when necessary. Problems with the hinges can lead to greater problems with the entire door assembly.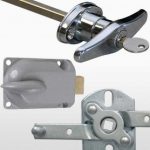 Garage doors without a garage door opener usually have a keyed cylinder style lock to restrict access. These will wear away with use and will need to be replaced. We can provide traditional gararge door locks as well as a variety of different bolt locks and digital keypads to secure your garage.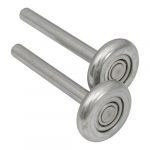 The exterior wheel and interior ball bearings experience wear-and-tear.  Regular lubrication is needed to maintain smooth function.  When your garage door rolls less smoothly, your garage tracks are subject to unnecessary strain that could result in greater damage.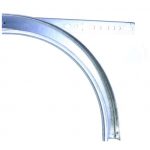 The rails that the garage door rollers run along.  This component must be properly installed and maintained, as tracks that are not level will put undue stress on the entire mechanism.  Our technicians will check everything is level and examine the tracks looking for dents and stress areas and checking the fastening brackets.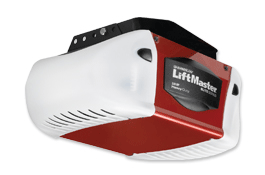 When garage door components are not working properly, the entire garage door system comes under strain damaging other parts. Problems with the opener should receive immediate attention from an experienced technician. We carry the leading brands - but our experience means we can replace interior parts as a more affordable solution.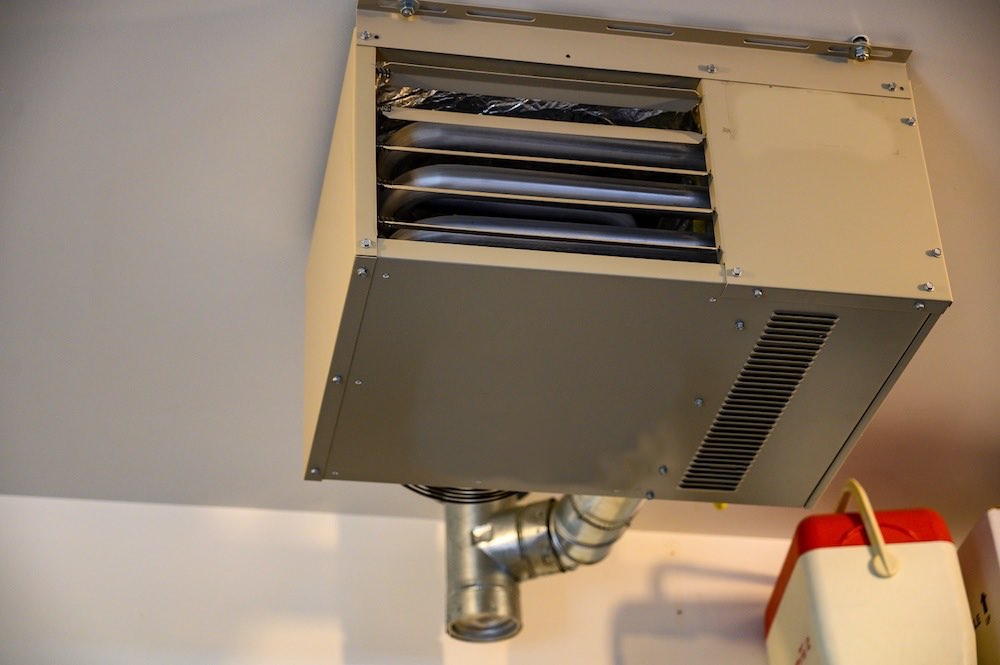 Transforming your garage from a storage space to a workspace is more challenging in Canada.  A garage heater will help you take your workshop or home office to the next level!
Electric garage heaters, propane garage heaters, infrared garage heaters - we distribute the leading brands in the category and will consult with you about the best solution for your needs.
Read more about our garage heater solutions and gain insights from our garage design team.  We work with North America's leading suppliers to get you the best price and skip the middleman!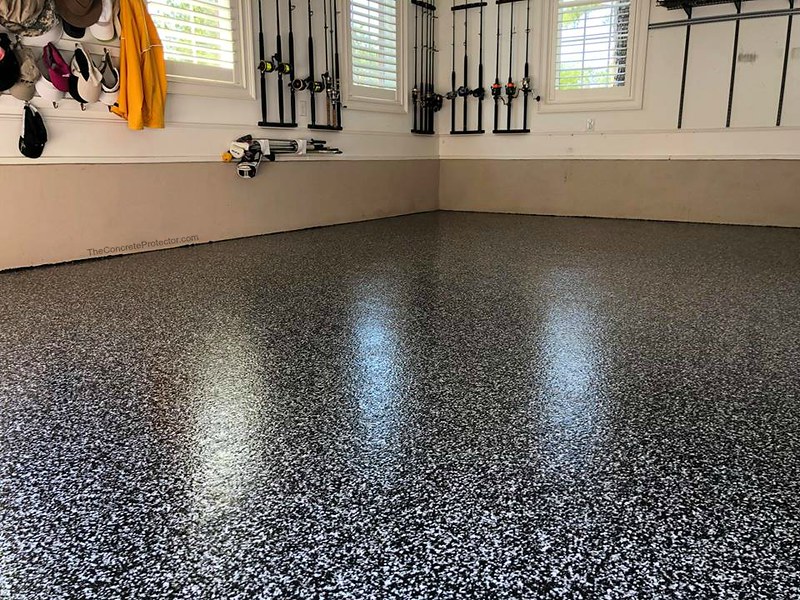 New flooring for the garage is becoming increasingly more popular with homeowners and businesses in the GTA - and epoxy garage flooring is the strongest and most versatile option available.
The epoxy floor provides both form and function - with eye-catching designs and superior durability.  Blending beautiful colours, patterns and even sports team logos - every epoxy garage floor is customized to your style.
We apply garage epoxy flooring for both homeowners and businesses.  Read more about our flooring solutions and consult with one of our garage design professionals today.
Garage Door Installation & Custom Garage Door Design
We have decades of experience installing North America's leading garage door brands - Garaga, Cloplay, Wayne Dalton and others.  Our skilled mobile technicians are on-call to install your new garage door with great care and attention to detail.
If you are ready to take your home's value to a higher level - then learn about our custom garage doors custom-designed with you, the homeowner, in charge of the process.  Our garage design team can offer endless variations in design and materials for a truly unique addition to your home.
Custom garage doors offer increased energy efficiency, strengthened security and greater use out of your garage space.  Take a tour of our portfolio gallery to see what is possible with the Garage Life team in your corner!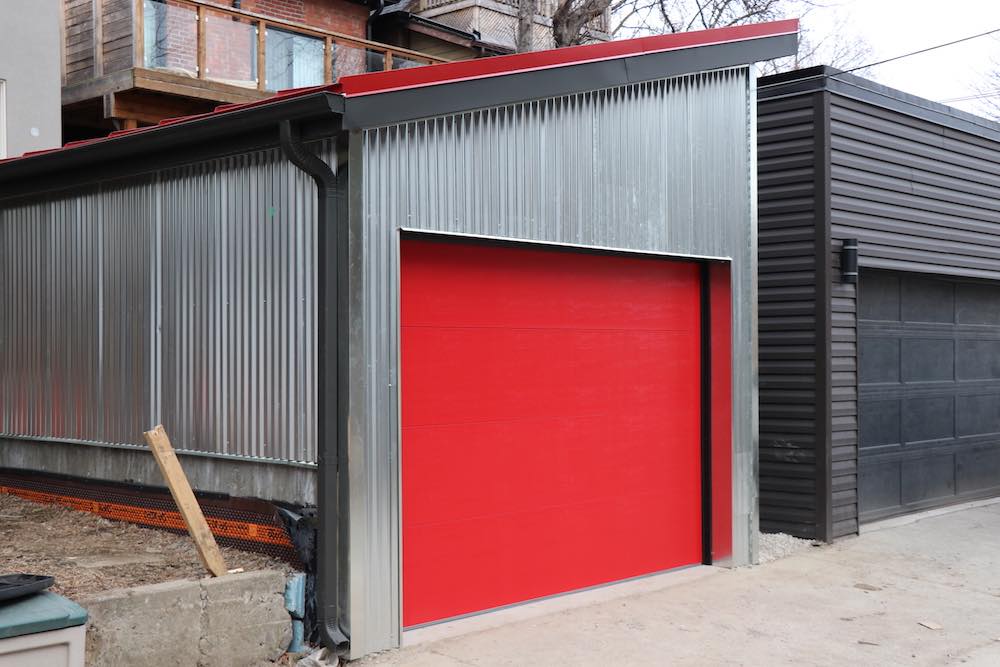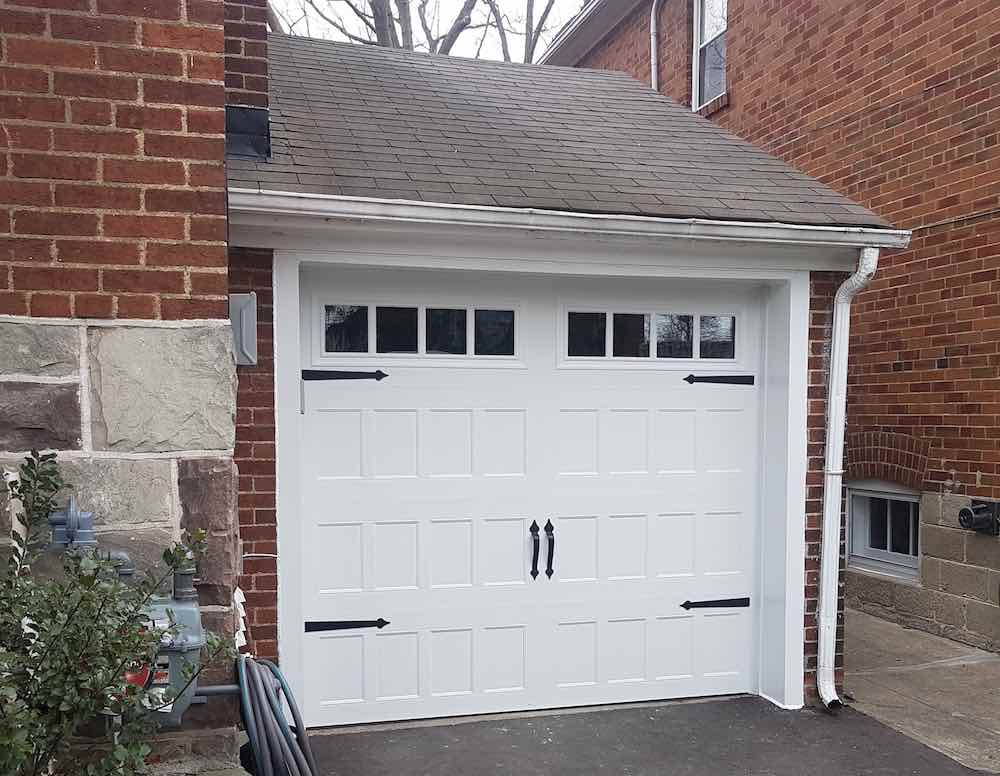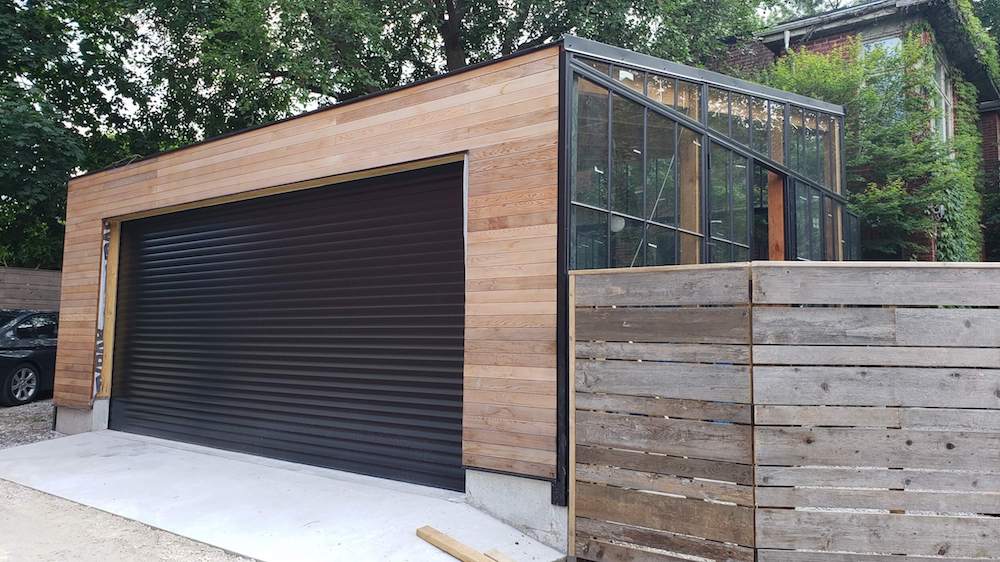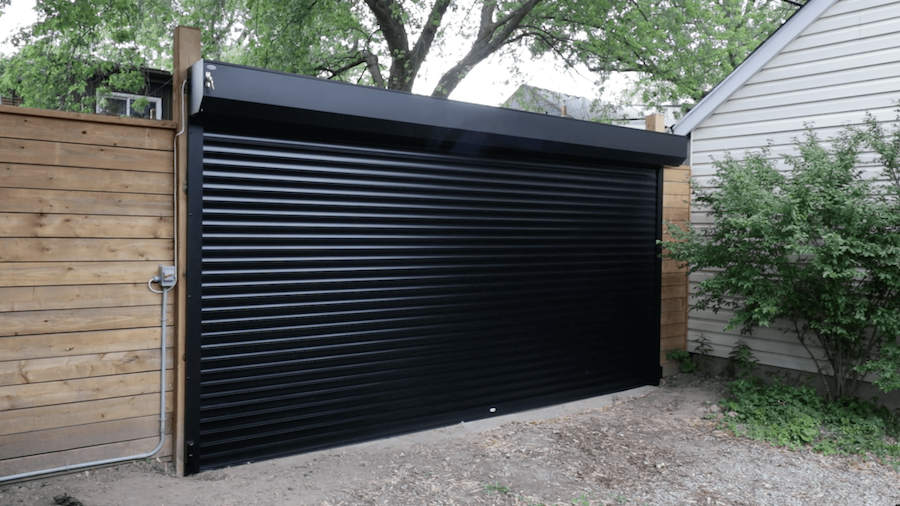 Roll Up Doors & Security Shutters
Overhead rolling doors for your garage or windows provide a great balance between modern aesthetics and enhanced security.  They are an increasingly popular choice for homeowners and businesses seeking to ward off potential intruders while enhancing the visual appeal of the property.
Overhead roll-up doors have a metal exterior and insulated interior that provide cost savings in the form of energy efficiency.  They roll up into a small container which allows you to better utilize the space within your garage - no bulky traditional garage doors to deal with!
We have decades of experience designing and installing rolling doors and security shutters for homes and workplaces.  Contact one of our garage design team today to learn more about our custom-designed solutions.
Similar to home building materials, garage door technology has come a long way over the years. These days homeowners require modern garage doors to match the form and function of their modern homes.
We design and install modern garage doors made from cutting edge materials. Whether you opt for a door made of aluminum and steel, or one made of wood or glass, you can rest assured that our garage doors will be a positive investment for your home.
We supply North America's leading brands of modern garage doors, including Cloplay, Amarr, C.H.I. and Safeway. All products and service are backed up by warranty.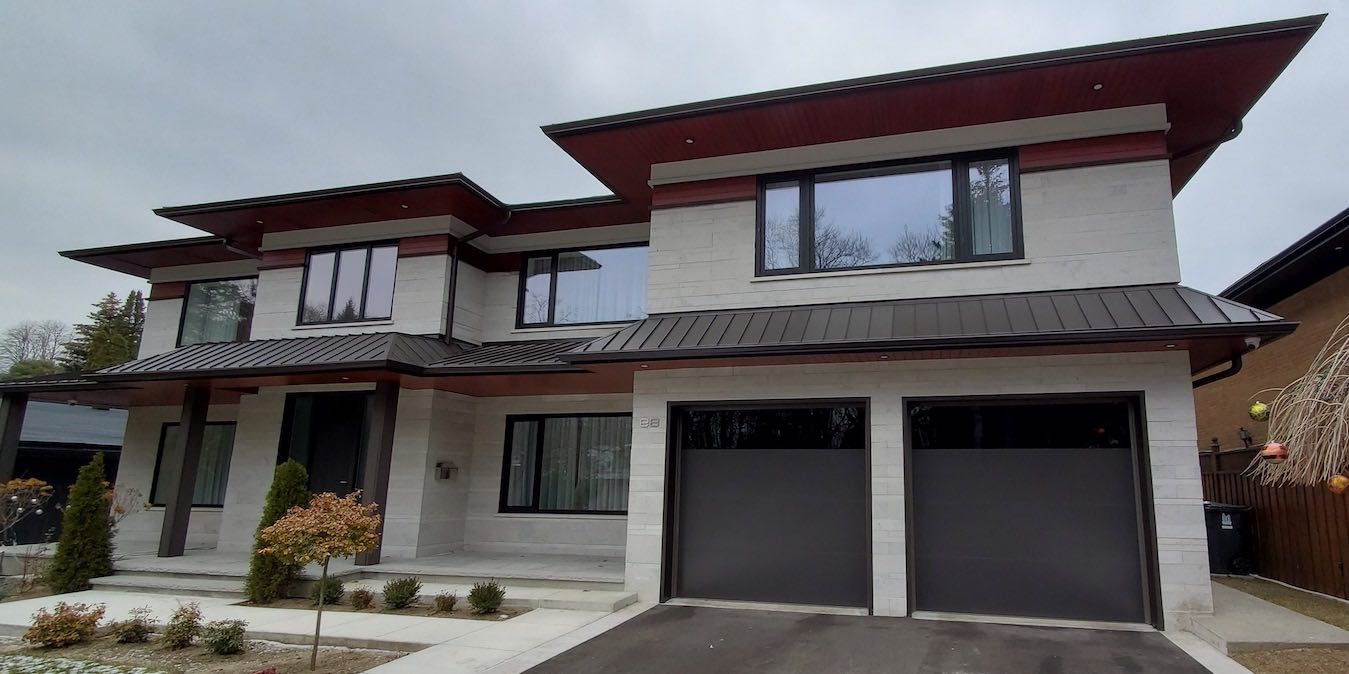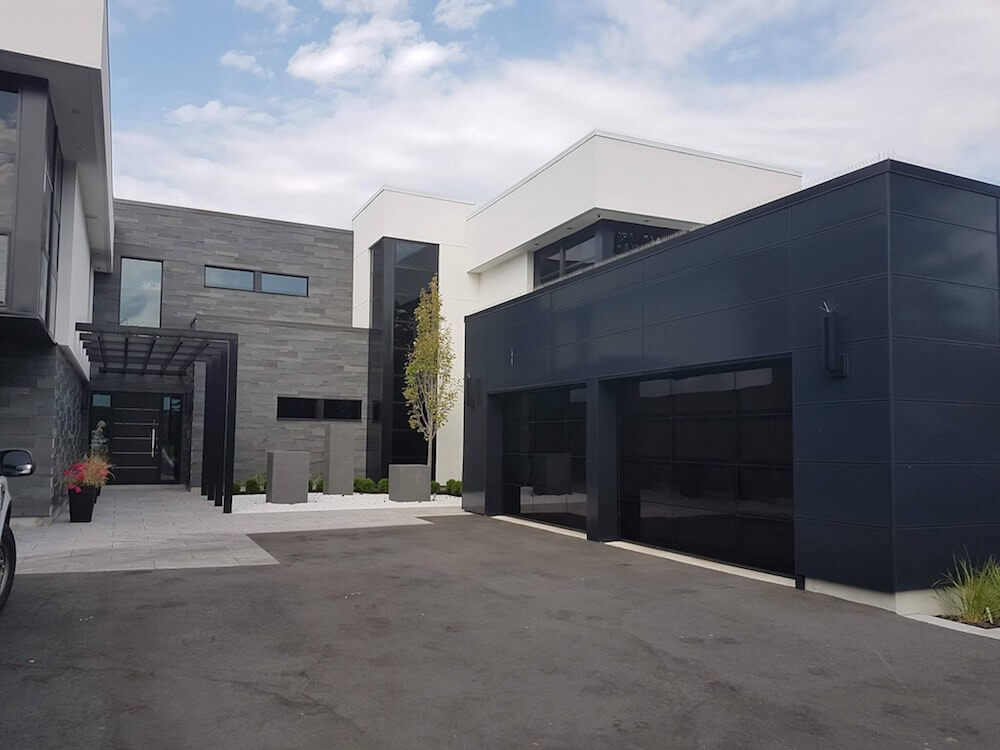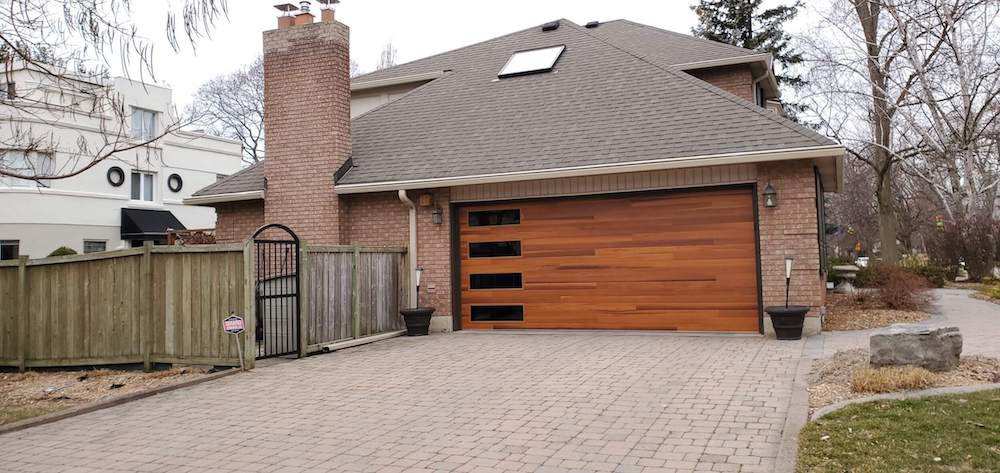 Modern garage doors use many different materials and wood is a popular choice for homeowners looking to make a serious investment in their home.
We design and install wood garage doors that are technology forward incorporating insulation against temperature and noise.
Learn more about the different types of wood garage door and the options available. 
Canadian homeowners know the importance of dealing with an extreme climate while keeping energy costs down.  Choose a modern garage door that works to keep your garage warm in the winter and cool in the summer.
A garage is often connected to the house so regulating the temperature of your garage will help your entire home.
We have been designing, building and installing insulated garage doors for 20 years.  Learn more about our modern garage doors and how insulation with a high R-value can help thermoregulation for your home.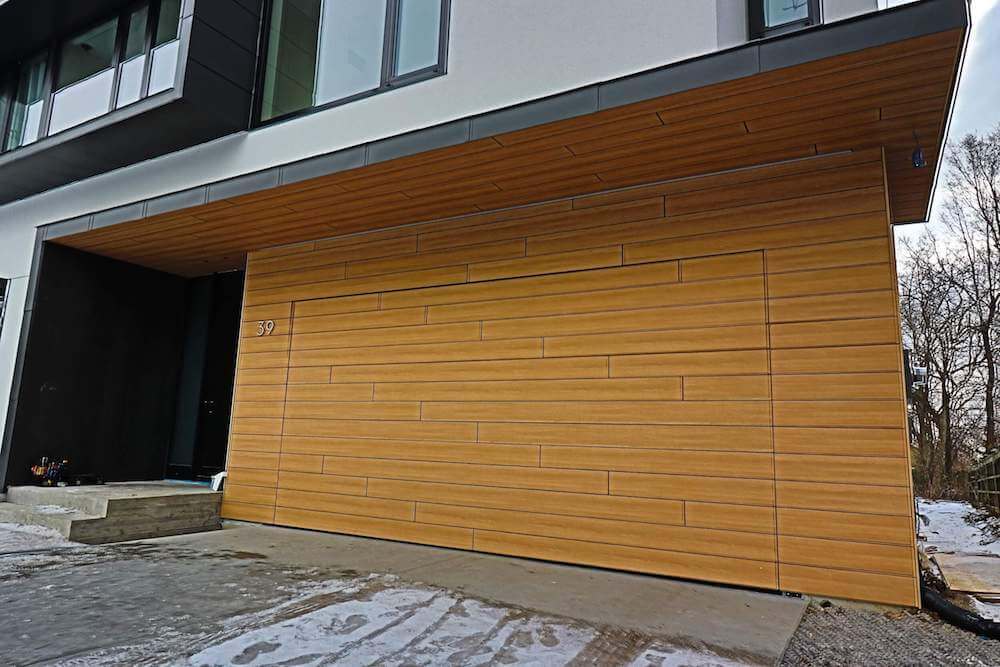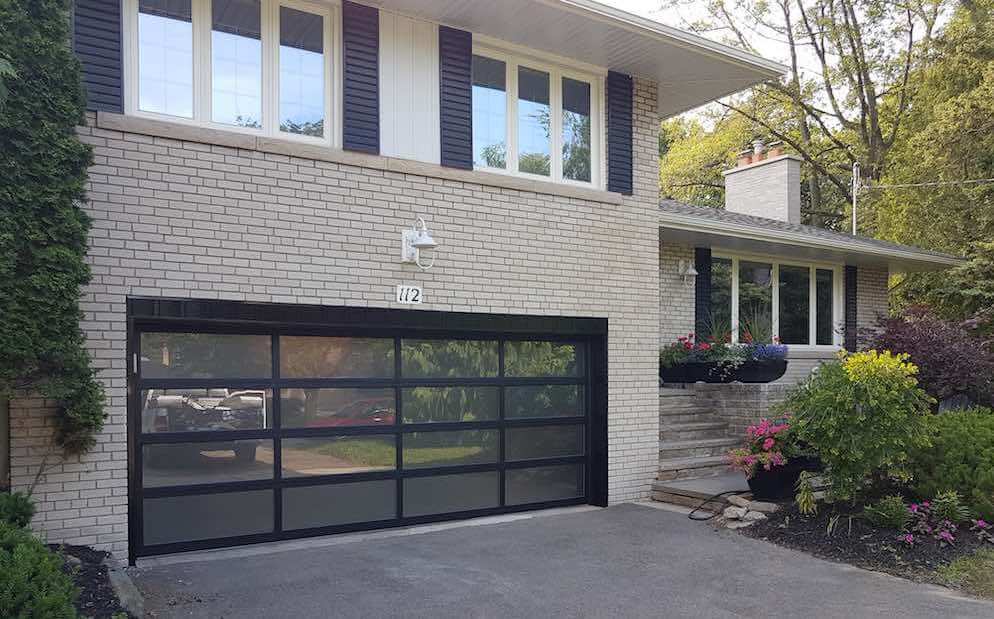 For homeowners looking to convert their garage into a workshop, home office or gym, glass garage doors are becoming a popular trend.  A garage filled with natural light opens up more possibilities for the space.
Glass garage doors have a modern look in keeping with current architecture trends.  And we can offer a high degree of customization for bespoke glass garage doors.
Glass panels can be customized with opaque, mirrored and frosted glass.  The aluminum frame comes in a variety of colours or can be painted to order.
Toronto's Best Garage Door Repair & Garage Design Team