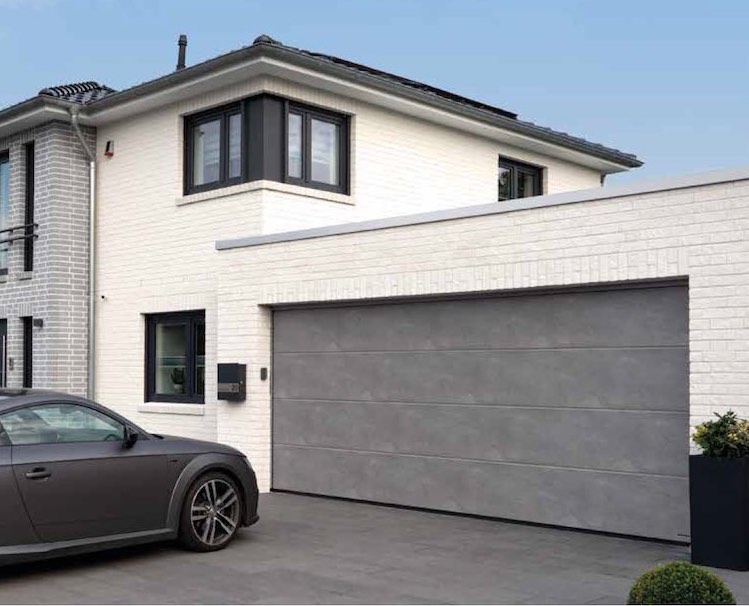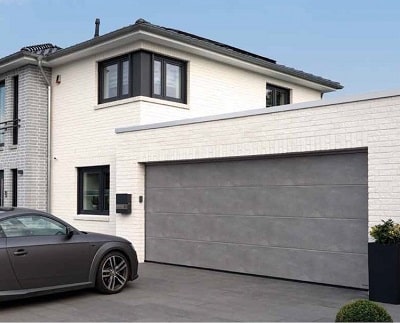 Garage Doors that Keep the Heat In - Insulated Garage Doors
Most homeowners tend to think of their garage door as simply as an access point to the garage. However the garage door is usually the largest opening to your home,
and is no less important than the front and back doors. Modern garage doors are important not only for aesthetics and security, but also for insulation and thermoregulation.
Older garage doors are usually a source of heat loss for the home - and also lose air conditioning during the summer. If you have been keeping your home at a comfortable temperature, then a dated garage door is a source of financial loss.
Insulated garage doors help to keep your home at your desired temperature. Modern garage doors with insulation use advanced materials that bring thermoregulation to your home - much the same way insulation in drywall does. Insulated garage doors will help you save money by lowering the energy costs for your entire house.
So when comparing options for modern garage doors, make sure you also consider the level of insulation. The brands and models that we carry not only look amazing, but will make your home more comfortable and cost-efficient as well.
At Garage Life we have over 15 years experience designing and installing modern garage doors and roll up garage doors in Toronto and the GTA.
Benefits of Insulated Garage Doors
Insulation Guarantees Energy Efficiency and Cost Savings
For homes with an attached garage, the garage door is usually the largest entry point of the building. For this reason, it is also the greatest source of temperature loss for the home.
Any rooms or hallways next to the garage will be affected by this loss of thermoregulation. Especially in Canada, it is a struggle to keep the home warm in the winter and cool in the summer.
An insulated garage door makes a great difference for thermoregulation. Your garage could be 10 - 15 degrees warmer during the winter months. This will make a big difference for your family at home and for your energy bill as well.
An Insulated Garage Can Increase Your Living Area
Warmer temperatures in the garage opens up more possibilities for its use as a living space.  As working from home becomes more common, converting the garage to a home office is a growing trend.  Installing a workshop, home gym or storage area are other possibilities.
Installing an insulated garage door is usually the first step to make the garage a more livable space.  It is safer and more cost efficient than installing a garage heater.  Insulation also has the added benefit of helping to keep your garage cool in the summer.
Enjoy A Quieter Garage and Home
An insulated garage door provides more than just thermoregulation. It blocks out noise from the street as well. This helps to make the home a more peaceful living environment.
It also makes a big difference for people using their garage as a workspace. When the sound of traffic and construction enters the garage, doing focused work is difficult. Insulated garage doors make the work environment much quieter which increases productivity.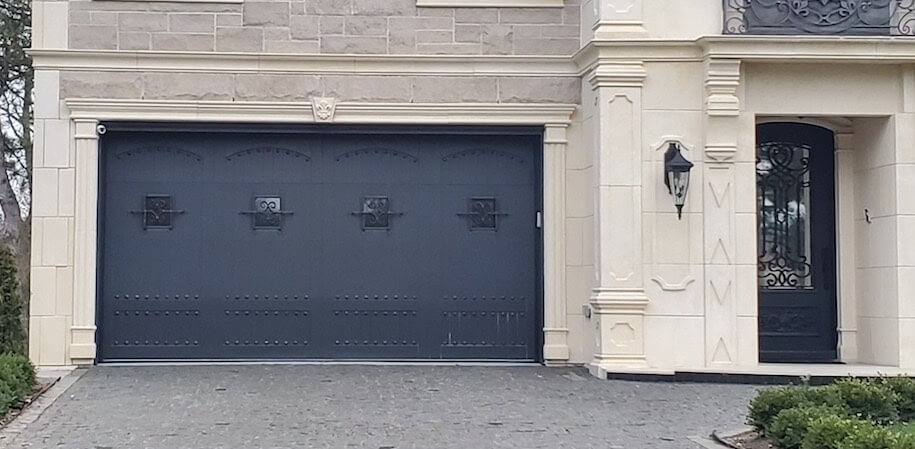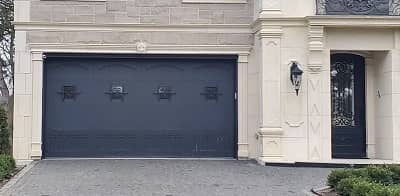 Less Noisy Garage Door Opener Operation
One overlooked benefit of an insulated garage door: a quieter garage door opener.  The extra layers of insulation means the garage door is heavier and sturdier.  It absorbs more vibration and the result is less rattling when the garage door opener is running.  
Tests during opening and closing have shown that an insulated garage door is 3X quieter than a regular uninsulated door.  Your family and your neighbours will thank you!
Insulated Garage Doors Offer Greater Strength and Security
Many of the repair jobs that we see are due to driveway mishaps. People can back the car into the garage door. Or hit the garage door by accident doing housework or playing sports. Most older garage doors are susceptible to damage to their rather flimsy fabrication.
Insulated garage doors are stronger and can withstand more damage than regular doors. This helps to save a considerable amount on repairs. Most modern garage doors are constructed with layers of fibreglass, steel and aluminum. Insulated garage doors have an additional layer - a core of polyurethane foam that adds physical strength. The insulation means that the door is less susceptible to the types of major dents that affect the operation of the overhead door.
And greater strength means greater security as well. The garage door is typically a vulnerable point of the home - which intruders and thieves will target. A modern insulated garage door poses greater challenges for any would-be intruders. The layers of metal, wood and dense foam make the garage door difficult to penetrate - especially without making a lot of noise.
An Insulated Garage Door Can Increase the Value of Your Home
An insulated garage door is one of the best investments you can make in your home. You and your family will enjoy all the benefits and pass them on to the next owner. This can be an important selling point for your home and increase its value on the real estate market.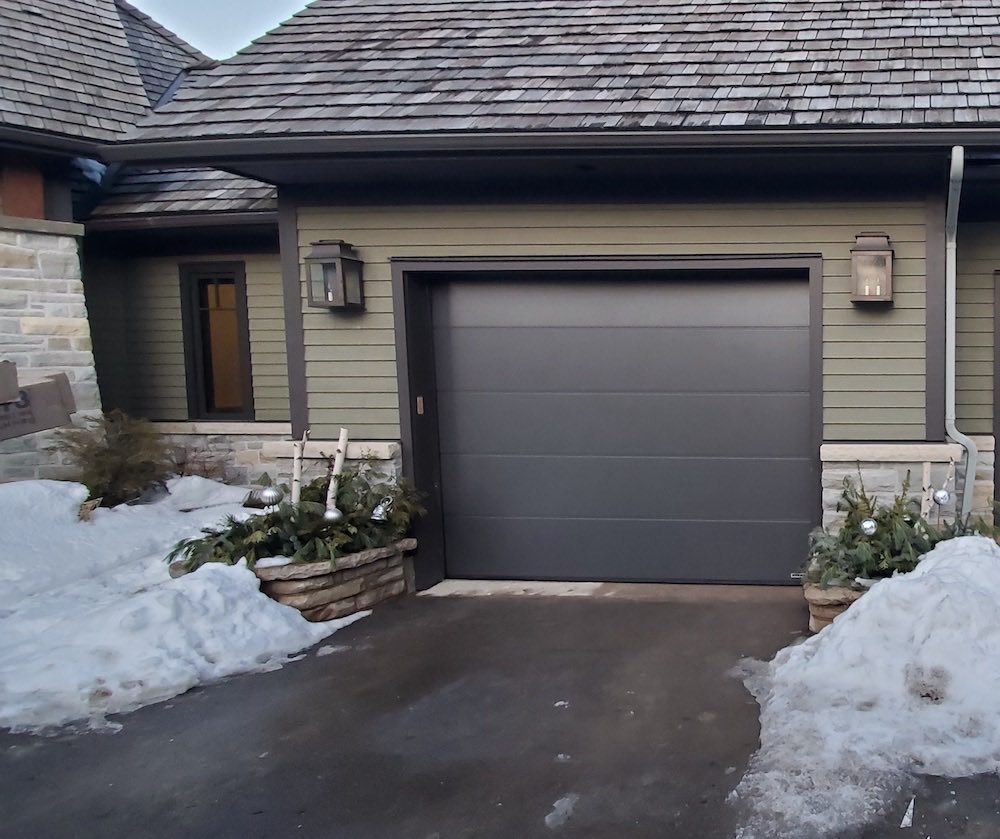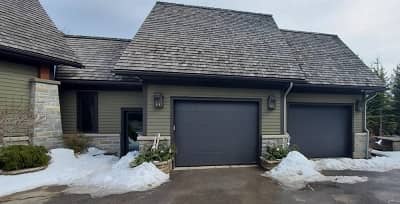 The R-Value & Insulated Garage Doors
For the majority of homes, the garage is a significant source of thermal inefficiency and increased energy costs.  This is true during both the winter and summer months in Canada as we use both central heating and air conditioning, respectively.  The garage shares so many common walls with the living area of the home that maintaining the indoor temperature of the house is a constant challenge.
In addition, cars, motorcycles and stored valuables can sustain damage from being kept in freezing temperatures for too long.
An insulated roll up garage door can dramatically improve the thermal efficiency of your garage - helping to maintain the temperature of your home and protect items in the garage.
All of our made-to-order rolling doors are constructed with two layers of steel with an interior of non-CFC foam for designed for temperature regulation.  We can customize the amount of foam based on your needs.  More foam means not just better temperature regulation but greater resistance against outside damage as well (for example windy gusts moving debris).
Most importantly, keeping your house cool in summer and warm in the winter will take pressure off your thermostat and energy bill.
For more info on how insulated roll up garage doors can help to save you energy costs while protecting your garage and home - get in touch with one of our mobile team managers at Garage Life today!
What R-value is suitable for a garage for Canada?
For Canadian homeowners that are considering insulated garage doors, we recommend a minimum R-value of 14.  Sometimes an R-value of 11 is suggested as the absolute minimum to achieve some insulation.  But this would work for garages that are either in a moderate climate or have some form of heating.  
Insulated garage doors with R-values in the range of 14-16 are either custom-made or shipped from premium manufacturers.  The insulating material is polyurethane.   It is a foam sprayed into the interior, leaving no room for any air pockets.
Some premium insulated garage doors have an R-value of 20.  This is near the maximum for the brand name manufacturers.  It's something to consider if you live in an extreme climate and use your garage as a workspace year-round.
Steel Garage Doors - Strength, Security and Insulation
Most modern garage doors are available in a variety of materials - wood, fibreglass, aluminum and glass - but the most popular and versatile choice is steel. This is especially true for insulated garage doors.
The main feature of steel garage doors is of course the steel composition, which makes them extremely strong and secure. The strength of steel also makes it the perfect casing for the polyurethane insulation that increases the R-value. The tough exterior protects the efficient insulation inside the core. Steel garage doors are more resistant to damage from driveway mishaps and can be easier to repair since they are an industry standard material.
With an insulated garage door made of steel, you'll feel safer and more comfortable at home. Moreover, steel garage doors achieve security, design flexibility and insulation - all at great value. It is a very cost efficient material for your garage door!
Send us a message and we'll get right back to you!