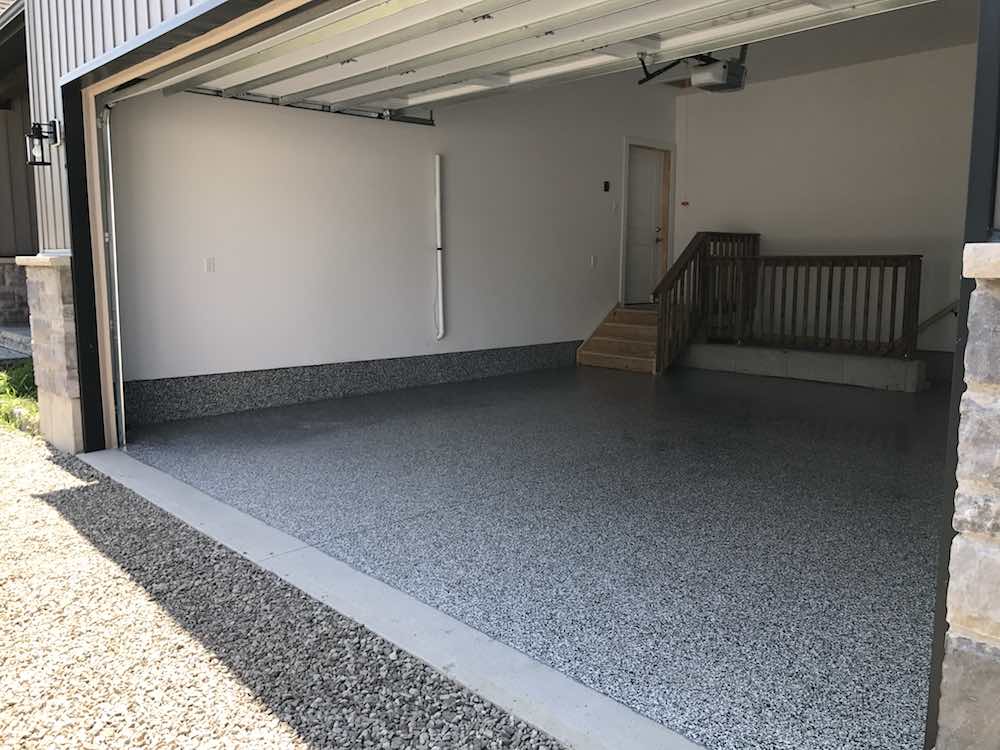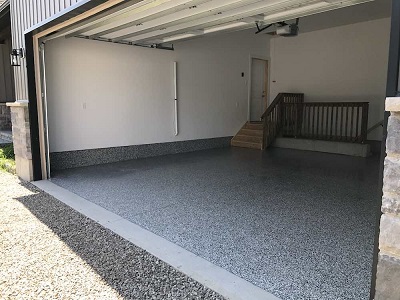 With more homeowners in the GTA expanding their living and work space into the garage, there has been growing interest in garage floor coatings.  Whether you are renovating the garage into a home office or gym, or simply improving your workshop, epoxy garage floors are the ultimate coating for style and function.
Our design team of project managers and garage flooring installers can help you to create a truly customized floor-coating solution for your space.
At Garage Life we have over 15 years experience re-designing the interior of garage spaces with features such as epoxy floors, garage heaters and garage door capping.
Garage Renovations & Your Garage Floor
Many homeowners we speak to have decided to renovate their garage space into more than just automobile storage.  At a certain point in the process, they realized that a bare concrete floor for their garage is simply not going to cut it.  This is mainly because a concrete floor is subject to erosion from moisture (from above and below the garage floor) and car tires rolling over it.  But an equally important reason is that concrete garage floors are drab, rough, and not exactly pleasing to the eye.
The best solution is epoxy garage floors - a concrete floor coating that adheres to cement and fills in cracks while maintaining a strong, flat top layer that can withstand almost any type of shock or damage.  Best of all, decorative epoxy flakes can be applied in any style of your choosing - creating a truly customized garage floor finish.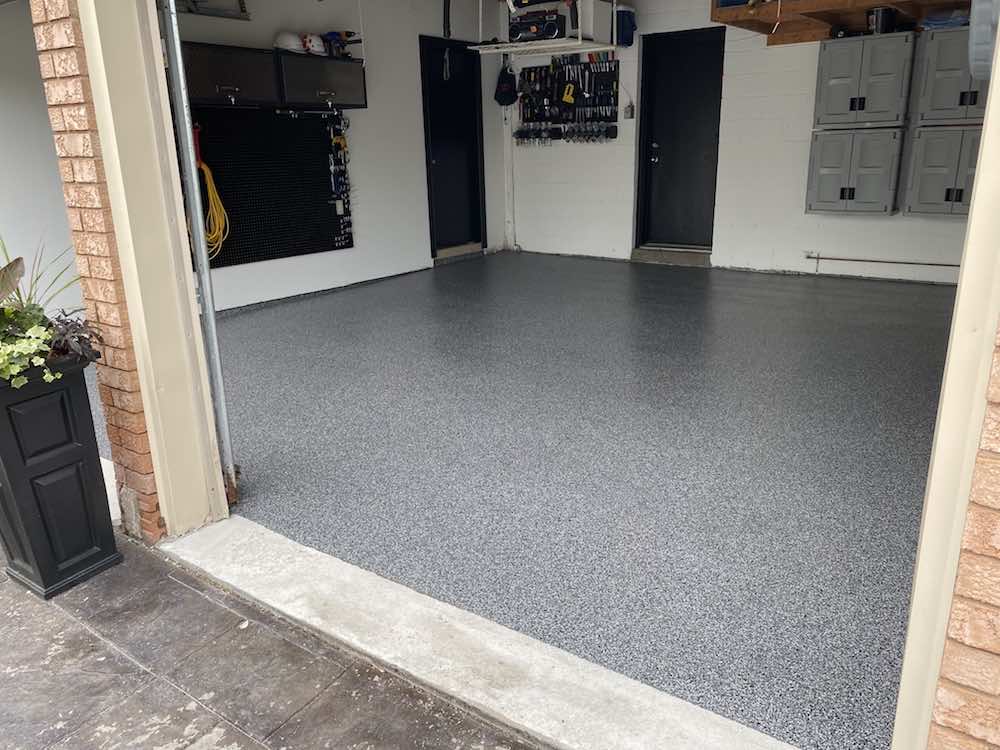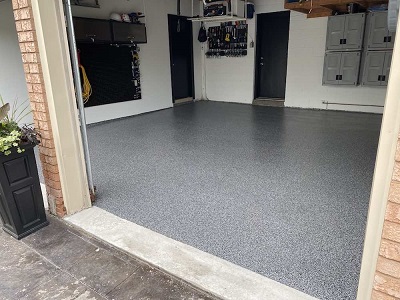 Epoxy Garage Floor Coating - The Best Technology for Style & Strength
Epoxy floor coating has long been a popular choice for businesses such as auto workshops due to its durability and inexpensive cost per square foot.  The epoxy used for homeowners' garage floor coating is very similar in composition to the original commercial application.
Epoxy flooring is a two-part mixture of resin and hardener.  This mixture can be composed of different chemical products in different ratios to create distinct layers of the garage epoxy floor.
3 Layers of Garage Epoxy Floor:
Primer -

fills in cracks on the floor while sealing off moisture, binds to the garage floor concrete.

Thick epoxy middle coat layer - builds up the majority of load-bearing strength of the garage floor coating.
Ultra-hard topcoat - n

ot an epoxy but a protection layer designed to take a beating - either from items being dropped, cars being rolled or water and chemicals being spilled.
In many cases, a decorative layer of epoxy flakes will be applied before the topcoat is added.  These flakes come in many different colours and styles to create a customized design for the garage floor coating.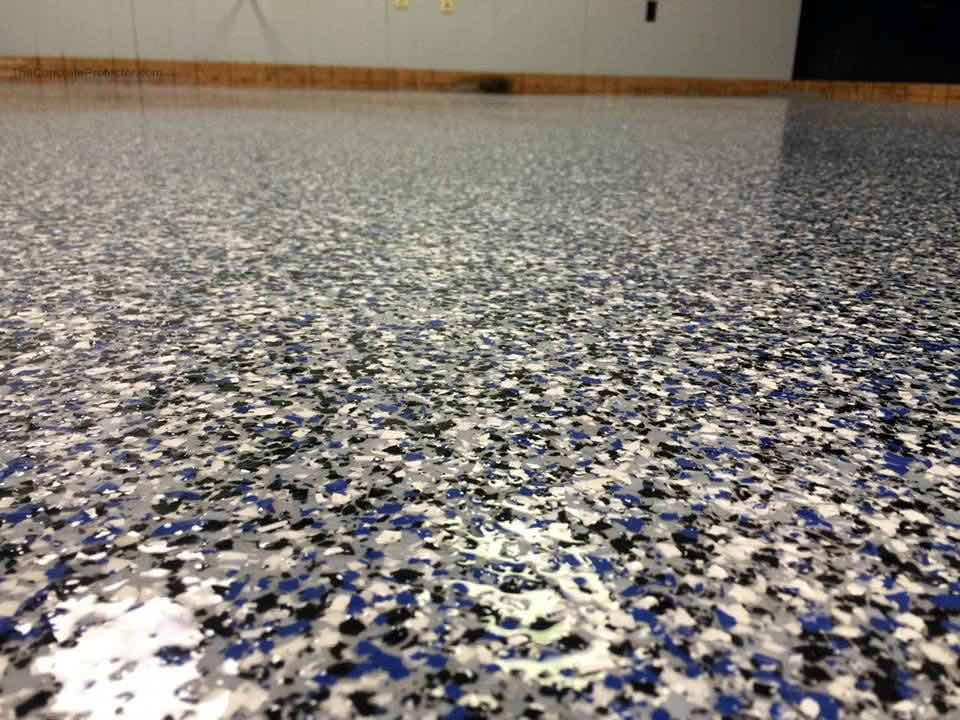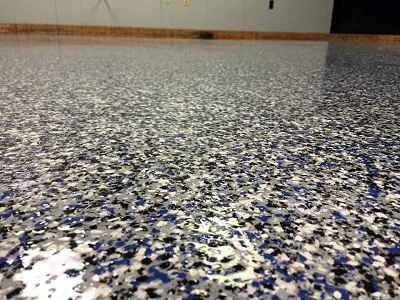 Epoxy Floor Coating - Benefits for Your Garage
Epoxy floor coating for your renovated garage floor has many advantages for the homeowner.
Epoxy coating is certainly an upgrade from a drab concrete garage floor.  Our wide selection of epoxy chips allows you to mix and match colours and styles for an eye-catching design.  And the overhead lights of your garage will be reflected by the epoxy floor - giving your garage a stylish showroom feel.
The garage epoxy floor will withstand all the punishment that comes with fully utilizing your garage space.  Its foundation is strong enough to carry the weight of your car and workshop cabinets, while the topcoat is durable enough to take any shock.  Dropping tools and weights won't damage your concrete floor coating.  And neither will spilling water, oil or most household chemicals.  Epoxy garage flooring is heat resistant too - another benefit for the workshop.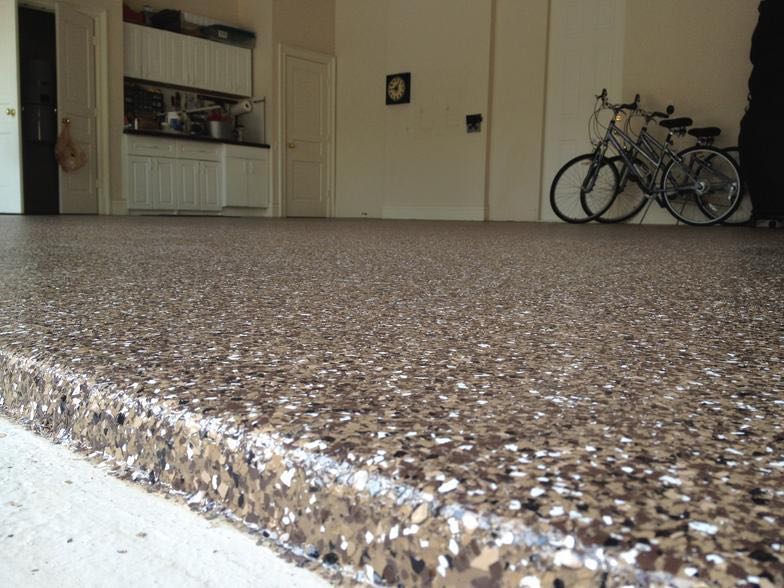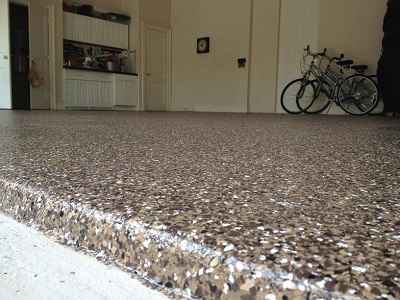 Long-Lasting & Low Maintenance
A floor made of concrete doesn't last for decades, but epoxy garage floors definitely will.  The hard topcoat that is applied as the final step of your garage floor resurfacing is tough enough to withstand many years of use because it doesn't chip or crack.
A garage floor coating of epoxy is both stain-resistant and responds extremely well to different types of simple household chemical cleaners.  Unlike a lot of building materials, it has a non-porous surface and no joints or seams - which makes sweeping and wiping a breeze.
Whether you are using your renovated garage space as a workshop, home gym or extra living space, your garage epoxy floors won't need to be replaced for a generation or two.
Best of all, an investment in garage epoxy floor is much more cost-effective than other types of flooring.  If a long-lasting and tough garage floor coating is what you need, then epoxy flooring is almost certainly the right choice for you.  Since epoxy is long-lasting and low maintenance - it is one of the best value choices for homeowners.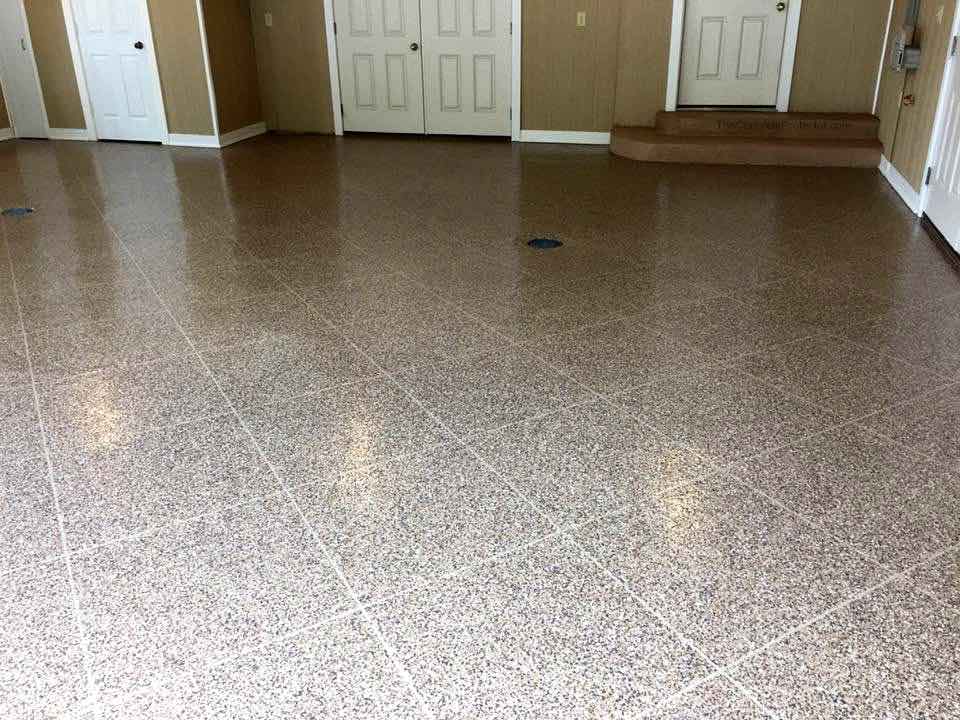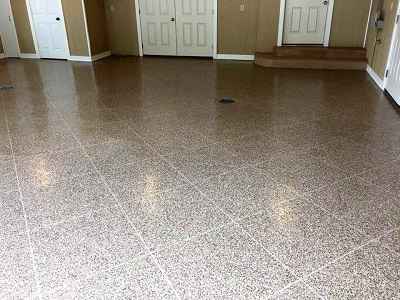 At Garage Life we have over 20 years of experience designing and renovating garage spaces for homeowners in the GTA.  Since every epoxy garage floor that we install is a custom job, be in touch with us today and speak with a project manager from our mobile design team.
We have hundreds of satisfied customers who love us for our affordable pricing and friendly service.  A brief chat with one of our team will allow us to give you a proper estimate for epoxy garage floor cost.
Also inquire with us about garage door repair and modern garage door installation.
Send us a message and we'll get right back to you!