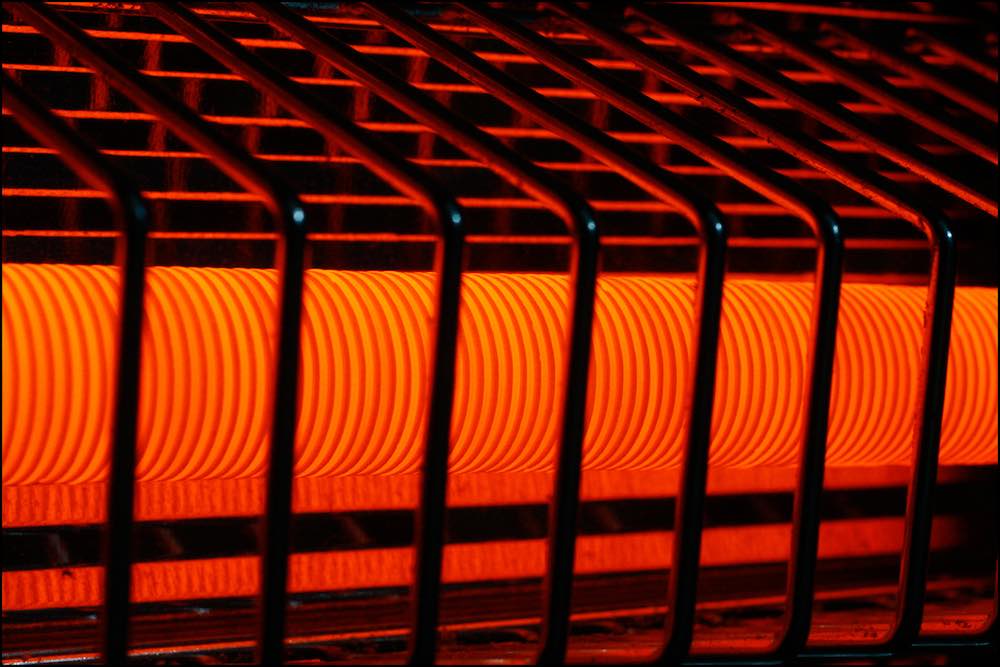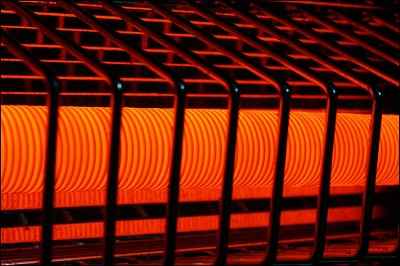 With more homeowners in the GTA reclaiming their garage space as a living and working space, garage heaters have seen a surge in interest over the last couple of years.  
In Canada, we obviously face greater challenges than other regions when trying to keep our garages above freezing temperatures during the winter months.  If you have plans to improve your garage space with a garage/shop heater then you may find the heating requirements and building regulations daunting.
At Garage Life, we have been delivering garage heating and insulation solutions for homeowners and businesses for over 20 years.  We understand that different garage spaces have different heating requirements, and there is no one best way to heat a garage.  However, there is one best way to heat YOUR garage, and we will help you choose from the different options available.
If you're concerned with keeping the heat inside the garage and saving money on your energy bill - definitely look into aluminum garage door capping to seal up the garage door frame.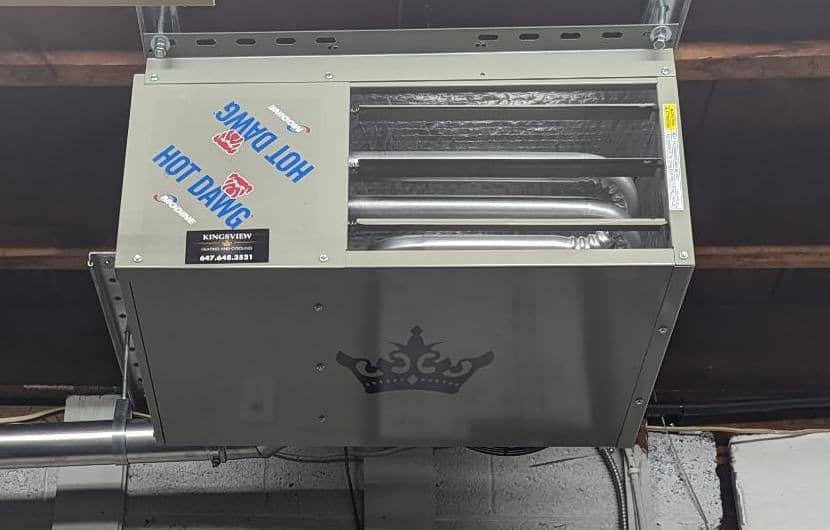 Natural Gas Garage Heater
For many people in the GTA, natural gas is an option for heating their home.  Extending this capability to the garage means that a natural gas garage heater becomes a cost-effective option that also uses space efficiently - especially when compared to other heat sources.
A natural gas garage heater has several benefits:
Can be connected to your home's natural gas supply, keeping your energy bill lower - for many homeowners, natural gas is the most cost-effective option for heating the garage or workshop compared to electricity.  And there are no heating disruptions due to electricity outages.

Mounted natural gas garage heaters will be installed with built-in ventilation - so keeping the garage open to force ventilation (like with propane heaters) is not a requirement.

Most models are installed near the ceiling of the garage.  This helps save valuable floor space and means people won't be bumping into them and burning themselves.
Also, gas garage heaters can heat very large workshop spaces and because they are tucked away and connected to the house's main heat source - are simply a more centralized and elegant solution.
For workshop spaces, be sure to check out our pages on epoxy garage floors and garage floor drains.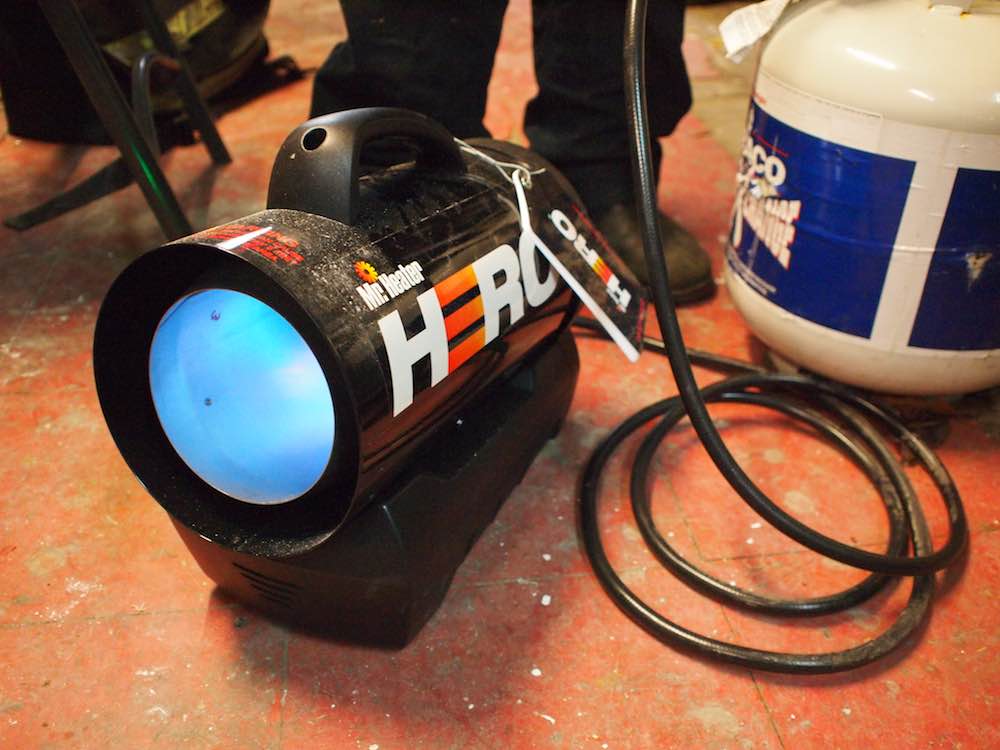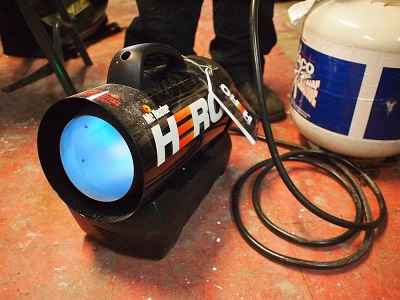 If the cost of heating your garage or workshop is a concern - but you are not connected to the natural gas supply - then a propane garage heater may be the way to go.  These heaters are very similar to the ones we see sitting on restaurant patios - but there are some models that are mounted on the wall as well.
The primary concern for anyone using a propane shop heater is maintaining a supply of fresh oxygen from the outdoors.  Burning propane uses up oxygen so we must be mindful of carbon monoxide levels building up.  Some models do come with ventilation features but having the garage partially open will be a requirement at most times when the propane garage heater is running.
Benefits of a propane garage heater:
A relatively inexpensive form of heat.  Most propane heaters will run for several days on the low setting - which is warm enough for most shop heaters.

Highly portable and require no power outlet or gas hookup to function.  This makes them the ideal choice for heating an older garage that is separate from the house.  The portable style also helps keep gas costs low - as you can move the heater to each space you are working at.

Built-in safety features on many models: oxygen sensors and tip-over shutoff are two types of modern features that can help keep your garage or workshop safe.
Like other types of garage heaters, propane garage heaters are available in mounted as well as free-standing models, and forced air vs radiant air.
For many homeowners, a propane garage heater is an ideal choice because it is low-cost for fuel and no-fuss for setup.  One could think of it as the beginner option for those who are just starting to optimize their garage space.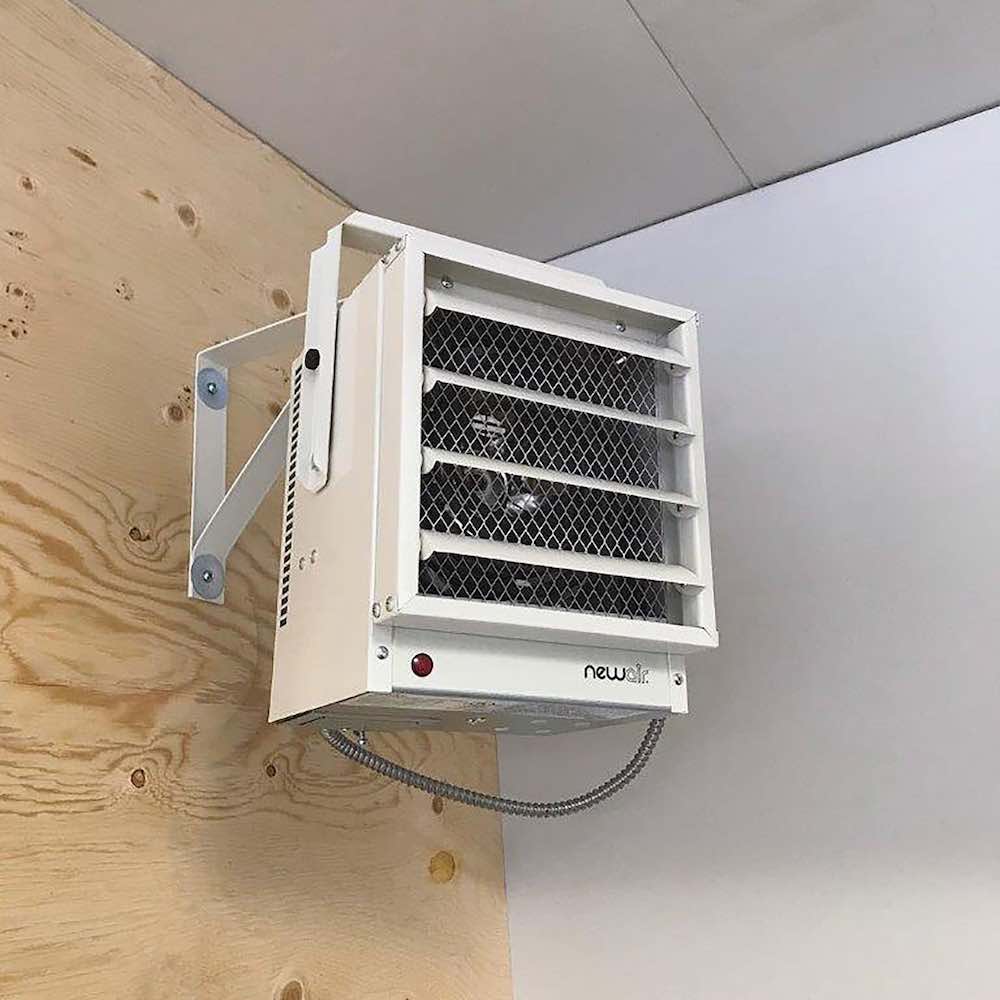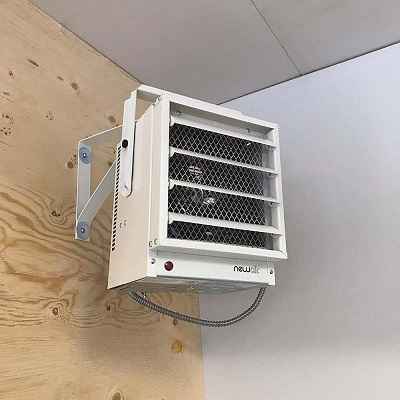 Many homeowners don't have access to a supply of natural gas, and for safety concerns, want to look at options other than a propane garage heater.  If you want to seal up your garage or workshop, keeping all that warmth inside, then an electric garage heater is a good choice.
Benefits of an electric garage heater:
An electric shop heater is considered to be the safest option for homeowners.  No combustion is taking place, meaning no potentially dangerous fumes in the space.  Not requiring ventilation is a big plus for homeowners and offers peace of mind.

Electric garage heaters can heat a huge space.  A three-car garage is not a challenge for a larger electric workshop heater, but the coverage will be dependent on whether you opt for a forced-air or radiant heat model.

Wall-mounted and portable options are available, based on your needs and what tasks you require the heater for.  Just like a natural gas heater, an electric overhead heater can be attached to the wall or ceiling, saving valuable floor space in the workshop.
Homeowners in Canada should be aware that the energy costs of an electric garage heater can fluctuate with energy prices, but for safely keeping the garage or workshop nice and cozy - the electric workshop heater is the one to beat!
Some larger wall-mounted models will require an electrician on-hand to install.  We have a wide network of skilled electricians throughout the GTA ready to help with this stage of the garage renovation.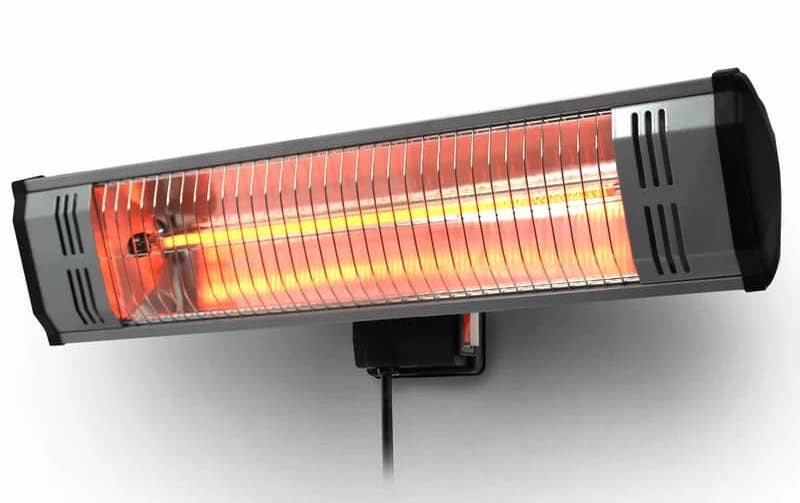 The final level of garage heaters - the infrared garage heater is a technology-forward solution that boasts features that an electric shop heater or gas garage heater cannot.  If you are renovating your garage into a workshop or home gym and don't need any of the hassles that comes with heating and moving air around then an infrared garage heater is worth considering.
Benefits of an Infrared Garage Heater:
While using electricity as an energy source, it is much more cost-effective and efficient than a traditional electric garage heater.  This is because an infrared garage heater doesn't heat up the air, it heats up the objects around it.  Because of this, it is extremely energy efficient and your energy bill will prove it.

Traditional workshop heaters will heat up the air in the garage, which then heats up the objects in the garage.  Dry, uncomfortable air (especially in the winter) will be an unpleasant result of this.  Infrared garage heaters do not have this problem.  The air in the workshop will retain its humidity level - making for a more comfortable work environment.

Most infrared garage heaters have the most technology-forward features.  Connecting to your wi-fi and being able to control the heater with an app or smart home system is becoming more standard on lots of models.  For techie homeowners, an infrared choice is both energy-efficient and allows for maximum wireless control as well.
Like electric heaters, you will need to plug an infrared garage heater into an outlet. Also, infrared models are usually more suitable for smaller spaces, which makes them a better choice for energy-conscious homeowners looking for an economical solution. But as a portable efficient solution with little fuss - many homeowners lean towards infrared garage heaters. For example, if you are sitting at a desk most of the day in your renovated garage/home office, then infrared is the best heat source to go with.
At Garage Life, we have over 20 years experience working with homeowners and businesses to elevate their garage space.  We will help you to choose the best garage heater for your particular workshop area based on your needs.  Our decades in business gives us access to one of the best supply and distribution networks in all of North America.  Whether you are leaning towards a natural gas, propane, electric or infrared garage heater we have the deepest network of distributors to get you the best price and skip the middleman!
We also provide garage door repair and garage door installation.
Send us a message and we'll get right back to you!