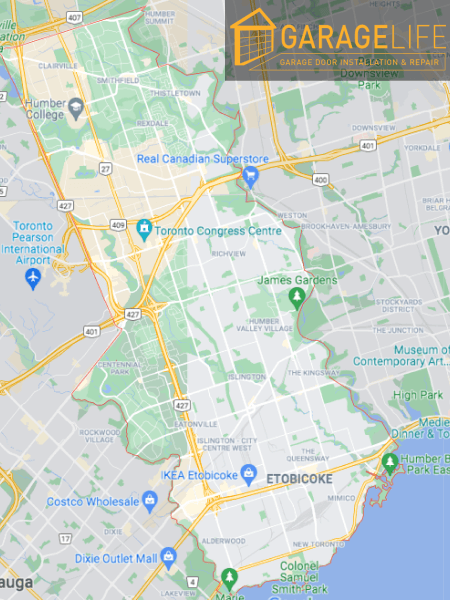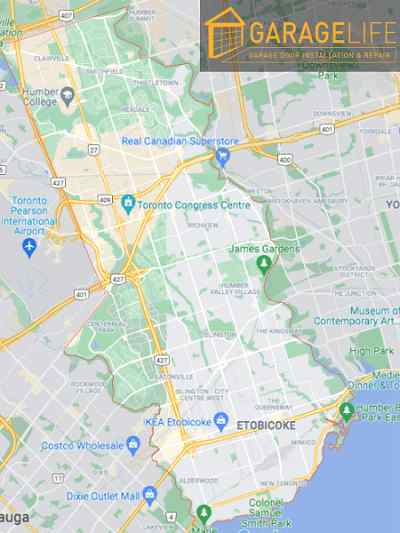 Garage Door Repair Etobicoke
At Garage Life our team of mobile technicians is on the move throughout the GTA.  For garage door repair etobicoke please get in touch with us right away because it is the location of our main garage where we operate from.  In some cases, our technicians can be deployed quickly in Etobicoke for emergency garage door repair.
We also specialize in garage door installation and roll up garage doors.
Get in touch with our mobile manager if you are affected by any of the below garage-related issues:


Garage Door Spring Repair
If you are experiencing a problem with your garage door, it may be a problem with the garage door torsion spring - especially if you see any of these 3 signs:
Your garage door will not open or close completely

The garage door is slamming down on the ground

Visible signs of buckling or corrosion in the spring
If you suspect that a broken garage door spring is the issue, then please be warned: THERE IS AN INCREDIBLE AMOUNT OF FORCE STORED IN THE GARAGE DOOR SPRING.  DIY WORK IS NOT RECOMMENDED DUE TO RISK OF INJURY!
At Garage Life we have been repairing and replacing broken garage door springs for 20 years.  In many cases, our mobile manager will be able to diagnose the problem via phone or email and give you a no-hassle quote before any service calls.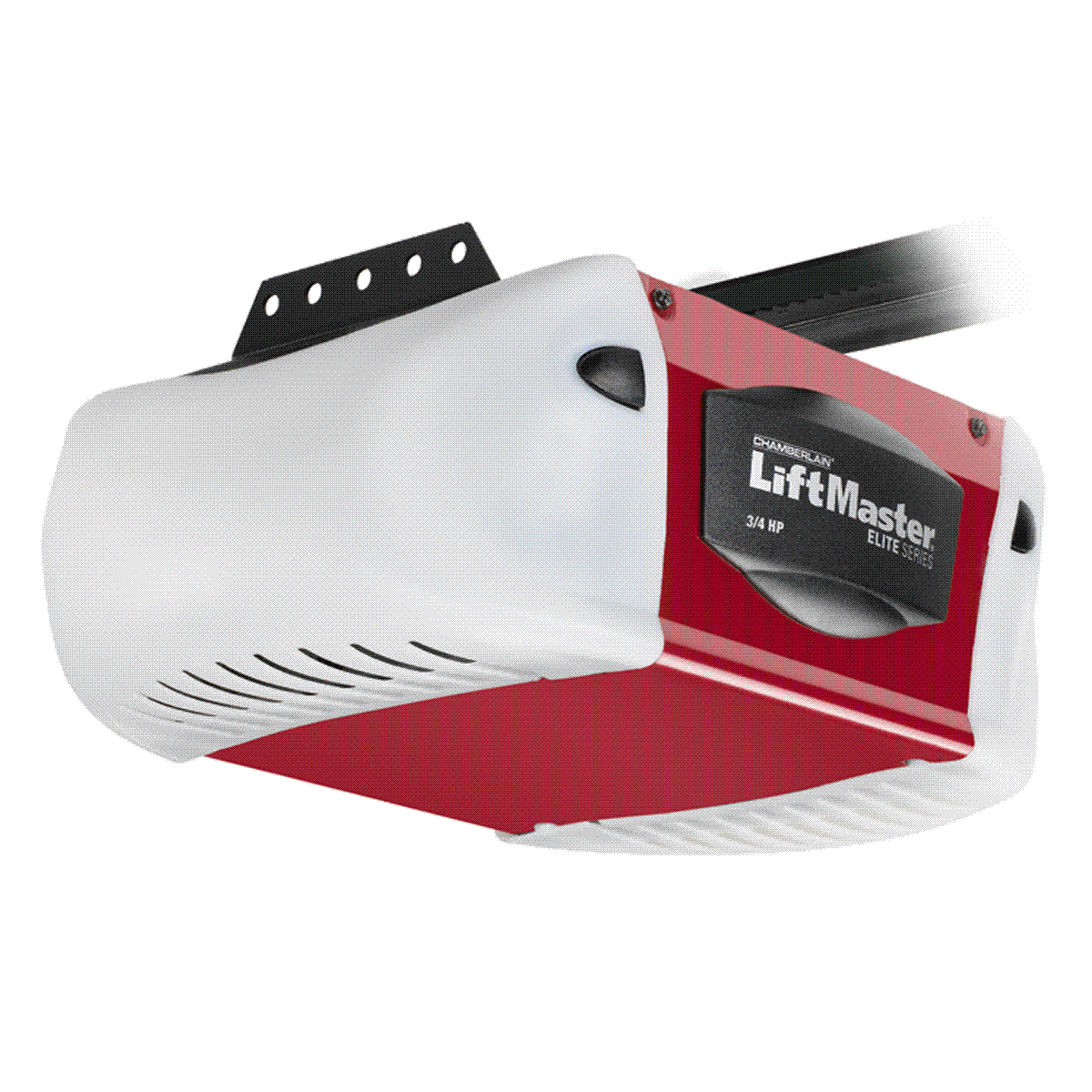 Garage Door Opener Repair
We have experience repairing and replacing automatic garage door openers from the most popular brands:
Chamberlain
Liftmaster
Craftsman
Genie
and many more - please inquire
If your problem concerns the garage door opener then you should get in touch with our mobile manager today.  When components inside the machine are not working properly, then the entire garage door assembly can be put under strain which can have an effect on the spring, tracks, rollers and hinges.
In many cases, we will be able to take a look at the machine and simply repair a specific part at a lower cost than replacing the entire machine.
The following parts are often the cause of issues related to the garage door opener: 
nyon gear
sprockets
chains
We will examine each of these parts and pinpoint the problem while considering repair instead of replacement.
In the event that replacement offers better value than repair, our experts can advise on purchasing a new belt drive and chain drive opener. 
We carry a variety of different openers that we buy direct from the manufacturer and sell at a cheaper price than the big-box retailers.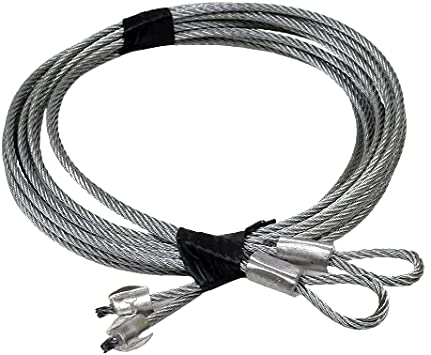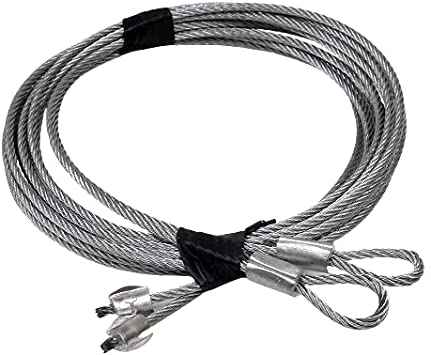 The cables of your garage door assembly are made of galvanized steel and carry a load close to 100 pounds.  They are not only fundamental to the proper functioning of your garage door and but to your personal safety as well.
If you see any evidence of fraying or snapping of the garage door cable then get in touch with one of our mobile managers today.  One of our technicians in Etobicoke will examine the unit and advise on repair or replacement.
THE GARAGE DOOR CABLE WORKS CLOSELY WITH THE GARAGE DOOR SPRING - WHICH CARRIES HUNDREDS OF POUNDS OF FORCE.  FOR THIS REASON, WE STRONGLY ADVISE SPEAKING WITH ONE OF OUR TECHNICIANS BEFORE ATTEMPTING ANY DIY WORK ON YOUR GARAGE DOOR CABLE!
There are a few common reasons why your garage door cable is not operating properly:
Fraying from simple wear and tear over the years

Cable is damaged from winding incorrectly

The pulleys that help lift the cable are starting to wear out
Once we examine the issue, we will advise on either repairing the issue or a complete garage door cable replacement.
At Garage Life we have been specializing in garage door repair and interior garage design for over 15 years.  Take a look at our work for epoxy garage floors.
Send us a message and we'll get right back to you!