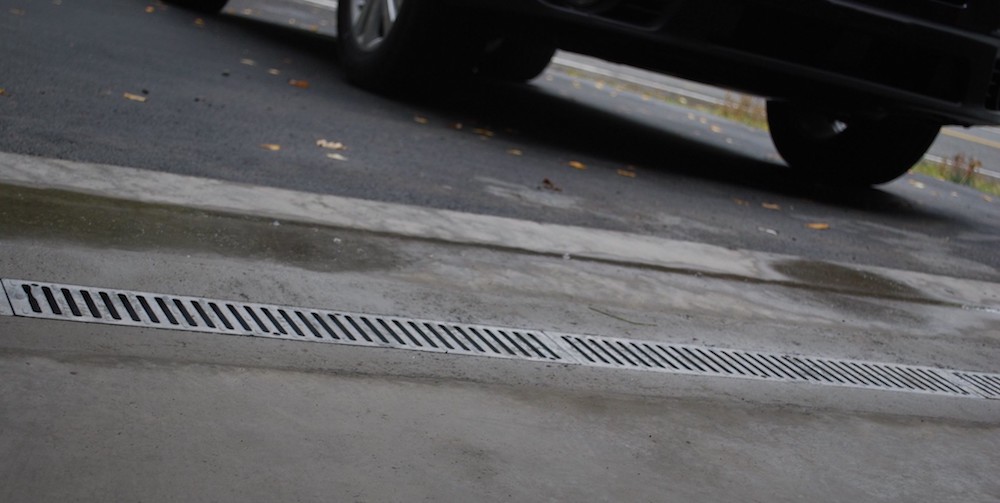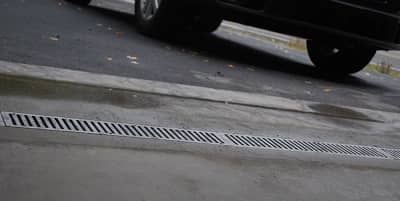 Garage Floor Drain Installation
Installing a garage floor drain can drastically improve the functionality of your garage. Many homeowners that we speak to use their garage as either a workshop or utility area for doing household chores. If your garage sees similar use then you should consider installing a garage floor drain to easily keep your cement or epoxy garage floor clean and dry.
A garage floor drain can help homeowners and businesses in the following ways:
Allowing snow to melt from car tires or your snowmobile.

You can wash your car or other vehicles while inside the garage. Or you can wash down your workshop at the end of a productive work session.

Keeping the garage door closed during the winter and summer months, to take advantage of insulated garage doors maintaining the temperature of your house.

For Canadians living in rural areas or near green space, a garage floor drain can help prevent your garage from becoming a breeding area for mosquitoes due to pooling water.

Keeping the garage floor surface safe from slips and falls. We are big fans of epoxy floors for the garage/workshop floor. But keeping the epoxy floor dry is a must to keep your workshop a safe working environment.
The net effect of having a garage floor drain is keeping the garage floor free from pooling water and dirt that can accumulate in the puddles. Over time water can damage epoxy floors and especially concrete floors. A garage drain is an investment that can save you from having to spend money on expensive repairs to your garage floor.
At Garage Life we have over 15 years experience helping homeowners to re-design their garage space.  Garage floor drain installation is one of our specialties along with garage door capping and garage heaters.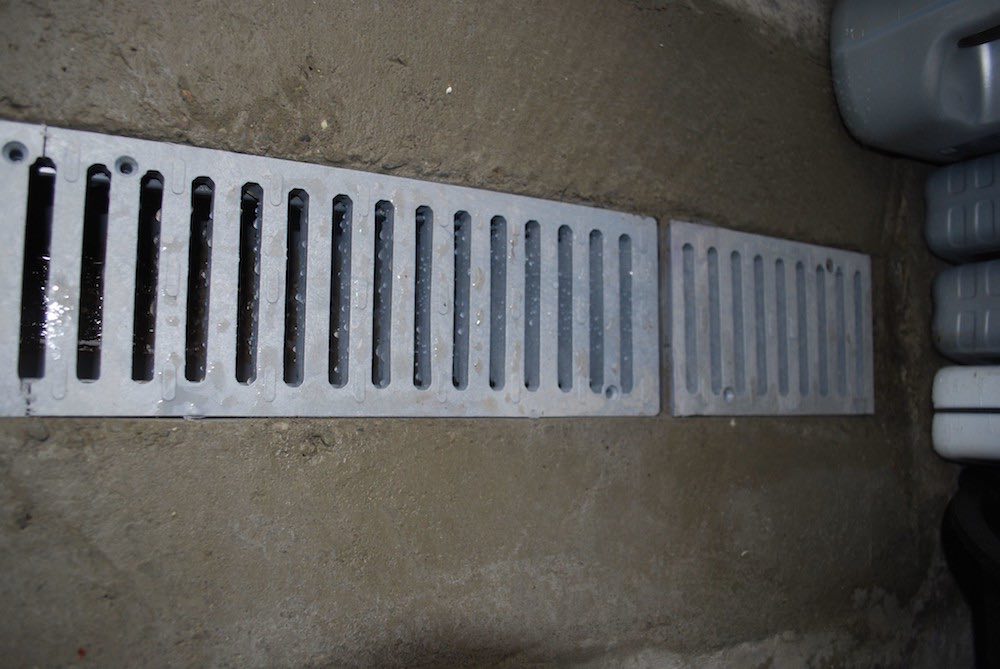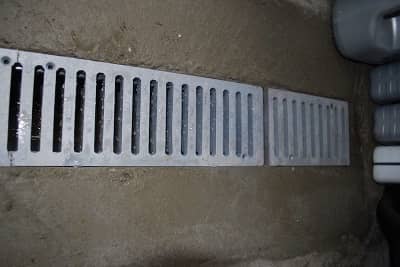 There are 2 major types of garage drain:
A trench drain is essentially a long channel protected by a grate that runs along a section of the floor. It is also referred to as a channel drain and is capable of taking in a large amount of water all at once. Several trench drains can be connected together in a network to maximize water drainage from different parts of the garage. This makes it the ideal choice for workshop enthusiasts who periodically wash down their workspace at the end of the day.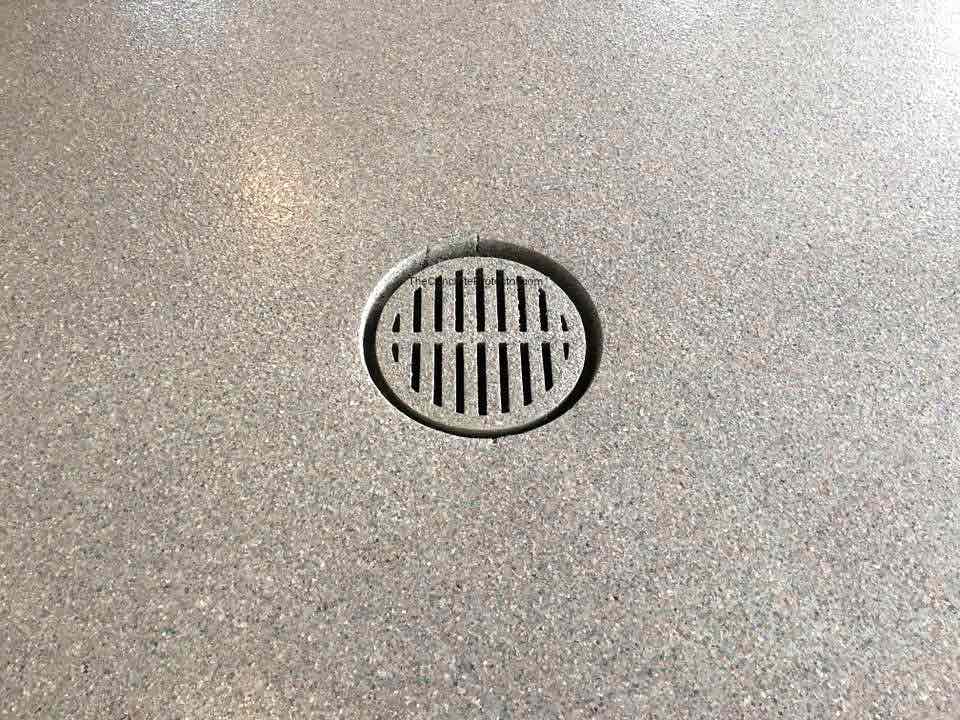 Square Drains (a.k.a. Square Bell Trap Drains)
These are similar to the type of drain installed in stand-up showers and laundry rooms - and are sometimes referred to as round drains (depending on their shape). They are a popular choice with homeowners because they are generally easier, cheaper and faster to install. They are overall less of a project than the trench drain, but they are more limited also. Square/round drains don't cover as much area and take in less water than trench drains - but for many homeowners, they are more than sufficient.


Garage Drain Installation - The Importance of Planning
Before beginning work on a new garage drain - and installing the pipes and/or trenches to allow water flow - it is important to recognize that the job requires A) attention to detail and B) a simple but well-thought-out plan for the construction phase.
Some important details to consider are:
If you're an avid snowmobiler or workshop enthusiast who expects lots of water falling on the garage floor - then a trench drain may be for you. In this case, you should then plan whether you are installing one channel or a network of channels in different areas. Or you may not need too much drainage and only require a single square/round trap drain. Also, a square/round drain goes well with epoxy garage floors. In either scenario, you will need to make this decision while considering the surface of your garage floor - which brings us to...
Any floor in any building is going to have a slope one way or another. Many garages have floors that have been constructed with a slope built down towards the garage door bay. For many homeowners, this is sufficient to allow drainage of water from melting snow, but for many DIY enthusiasts, building a trench drain running along the edge of the garage entrance is the logical next step.
However, some homeowners aren't so lucky to have a garage floor with a well-designed pitch towards the garage door. In this case, you or a professional are going to have to locate where water pools on your garage floor. This is usually the best place to start installing the easier square drain.
If you find that water is pooling in several areas of the garage floor, then the first step in installing a garage drain may be a new concrete refinishing to level things out and create just one pitch or drainage area.
Garage Floor Drains & The Ontario Building Code
At Garage Life most of our clients are in the Greater Toronto Area, where any new building construction or renovation is subject to the Ontario Building Code. Before getting to work planning and installing a new garage floor drain, make sure to be in touch with your local municipality's home inspection authority. A professional garage floor installer from our team will be able to help you with this. In some cases, a special permit may be required that requires you to install a special oil and grease interceptor.
For homeowners outside Ontario, we advise you to be aware that many houses in North America are subject to both provincial/state building codes as well as municipal/township building codes. Make sure you do your research or consult a professional beforehand.
Time to Cut Concrete, Build & Install Your Garage Floor Drain
After taking time to do research and take great care in accessing your garage floor surface, then it's time to cut concrete, lay pipe and install your new garage drains.
At this point, we would advise most homeowners to contact a professional to carry out their plans and consult with the local home inspector before, during and after the garage drain installation process.
We hope that from reading this post, you will be equipped with the knowledge to make informed decisions regarding whether you require a trench or square drain system, whether you require garage floor resurfacing and when to consult your region's building codes.
If you enjoyed this article, then please read about our other services including garage door repair and garage door installation.
Send us a message and we'll get right back to you!