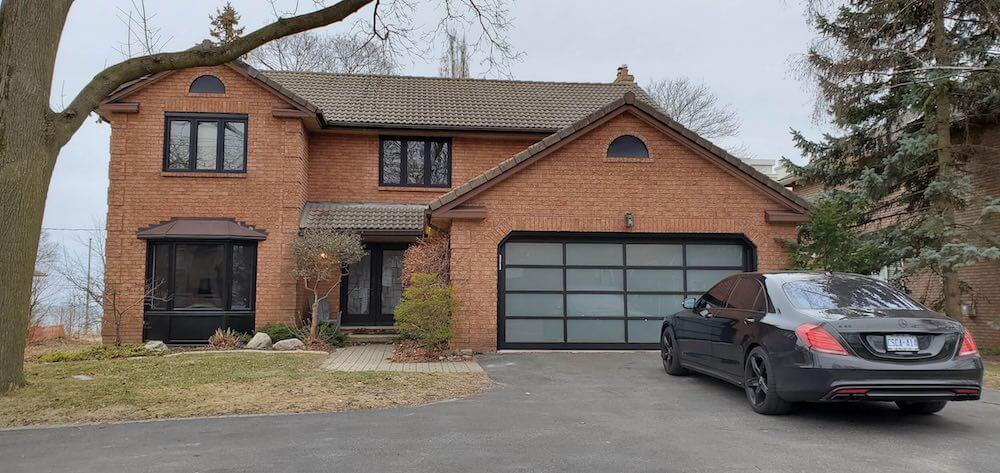 A growing trend in modern garage doors is incorporating more glass panels into the door.  This lets more natural light into the garage and adds style points too.  In recent years this trend has become more pronounced and homeowners are opting for all-glass garage doors.  Advances in design technology allow us to use insulated safety glass and insulated aluminum frames in glass garage doors.
Whether at the home or cottage, glass garage doors simply introduce more flexibility to your garage.  A modern look combined with better lighting allows homeowners to make better use of their garage as a workshop, gym or home office.
Call Us Today for an Estimate
Contact our garage design team to learn more about Glass Garage Doors and different customized options!
Benefits of Glass Garage Doors
Natural light will transform your garage from storage space to living space.  When renovating your garage into a home office, workshop or gym, the benefit of sunlight makes a huge difference.  In Canada, we are dealing with cold winters and hot summers. Keeping the garage closed while letting in light improves the functionality of the space.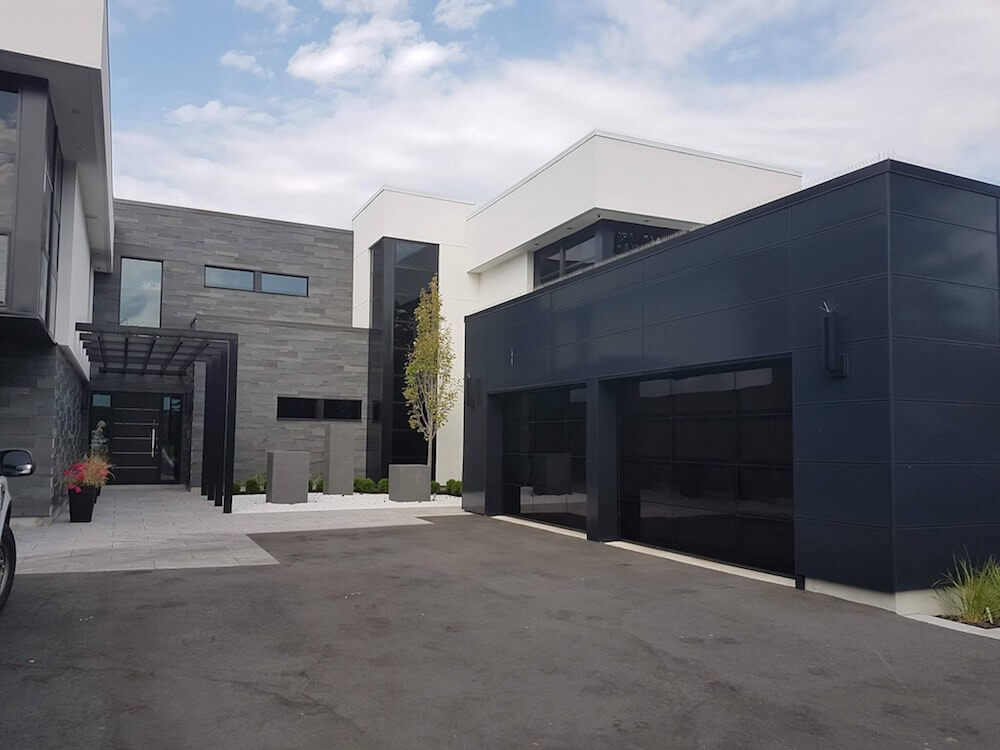 Modern Style for Modern Homes
When we talk about "modern garage doors", the glass panelled style is a great example of this trend.  Aluminum and glass garage doors have a sleek, contemporary look to match a modern home.  Frosted or polarized glass can add an extra edge to this aesthetic.  Most homes built today have modern architecture with clean lines and simple geometry.  The simple panels of a glass garage door are a natural extension of this modern style.
Glass garage doors can be custom-made for your home.  The panels are made of tempered glass (aka safety glass) and the frame is aluminum. Both these materials allow for different options so there are many design possibilities.  Different types of glass panels allow you to control the amount of light and level of privacy.  Aluminum frames come in black, silver, brown & bronze colors - which are selected to match your house.
Aluminum & Glass Garage Doors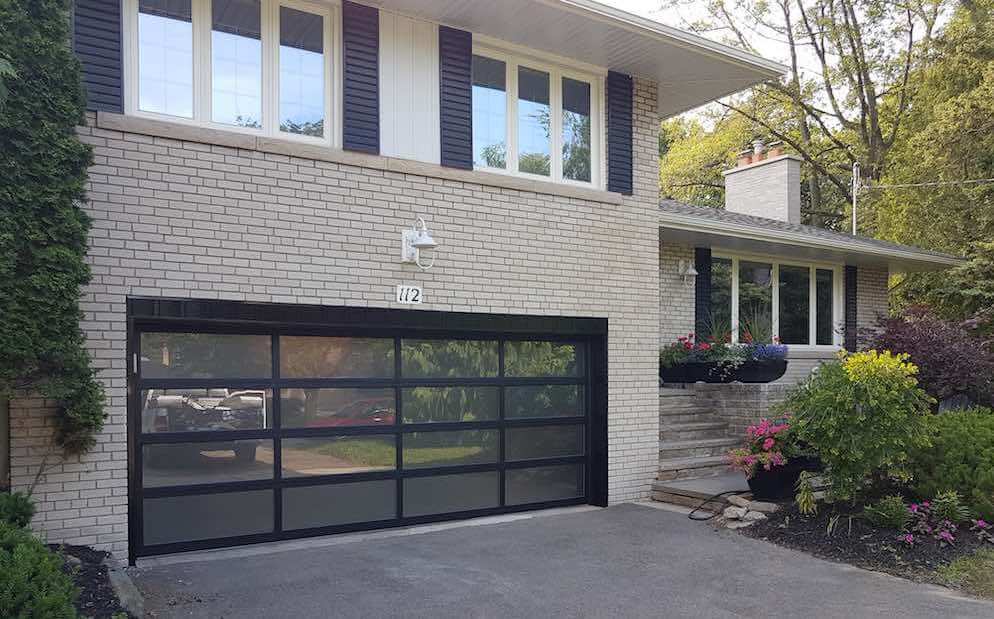 Aluminum frames are both durable and low-maintenance.  This means they can withstand damage (ie. small accidents) and need no maintenance other than the occasional cleaning.
The 2-1/8" commercial grade aluminum frame can have polyurethane insulation as an extra option.  When combined with insulated glass the garage door will an R-value of 4.
If the stock options for the colour of the frame don't suit and you need a specific colour - then custom paint jobs are another extra feature.
Glass Panel Options - Insulation & Opacity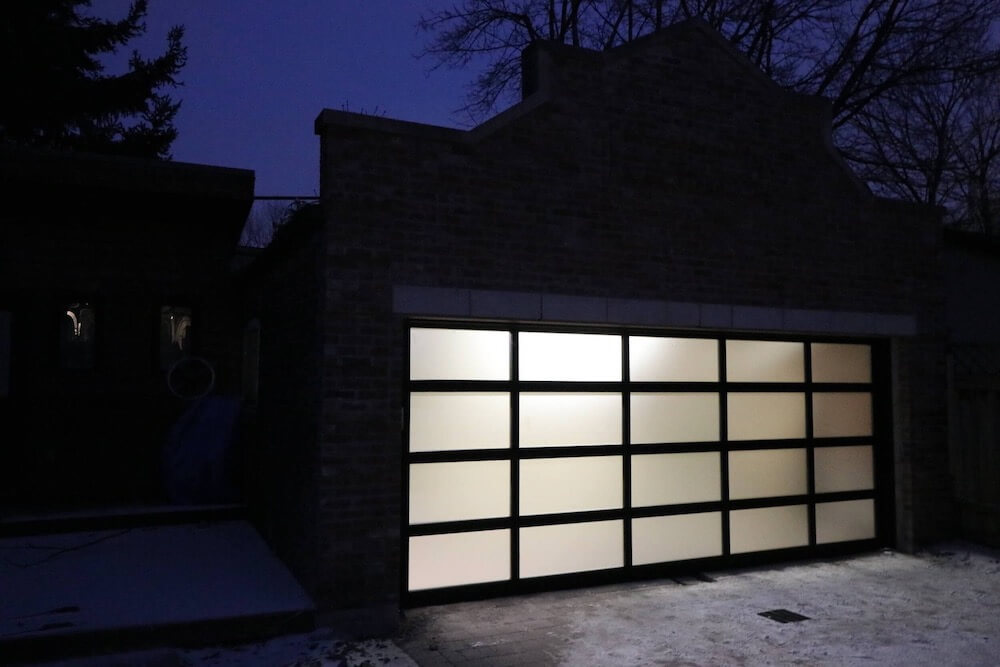 There are three factors to consider when choosing the type of glass panel for your garage door:
Lighting
How much natural light would you like in the garage?  Different types of glass will be more opaque or transparent than others.
Privacy
Almost directly related to the amount of light is your level of privacy.  If you are concerned with keeping your car or valuables out of sight then more opaque glass is the way to go.  One way to allow more light while protecting privacy is to choose frosted or obscure glass.
Insulation
Modern glass garage door panels will be made of safety/tempered glass - just like car windshields.  Insulated glass is an extra option which will help save money on your home's energy bill.
Other panel options exist such as:
mirrored glass
black or white laminate glass
clear acrylic
clear polygal
solid aluminum
Garage Door Glass Replacement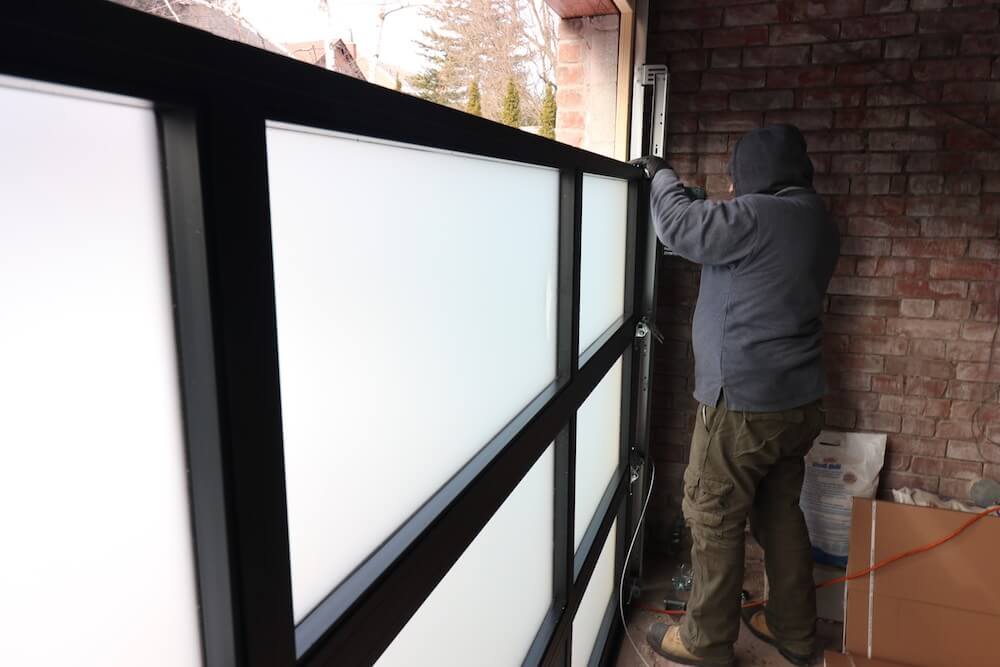 In the event that an accident breaks one of your glass garage door's panels - rest assured there is a solution.  Several manufacturers of glass garage doors offer glass panel replacement parts. Whether you can replace the panel yourself will depend on your model of glass garage door.
Many models have easy-to-replace glass panels that can be purchased at home improvement retailers.  These replacement panels will simply click into place before being secured with screws.
But the higher-end insulated aluminum and glass doors have safety glass fused into the frame.  These panels will need to be replaced by a professional technician.
At Garage Life we have 20 years experience installing and repairing garage doors and garage door panels.  We have long standing relationships with North America's leading modern garage door manufacturers.  We are able to source replacement glass panels and install them too.  Get in touch with us to let us know your model of glass garage door.
Roll Up Glass Doors for Patios
Glass garage doors are well suited to modern architecture.  The different models of glass doors that we install in people's garages are now so popular we often take requests to install them in other parts of the house.  
Our glass doors can be repurposed as roll up doors for the patio - a growing trend for homeowners in Ontario's cottage country. Imagine being up able to look up from your kitchen table to have an unobstructed view of your children playing in the backyard.  Or being able to turn your kitchen into an outdoor space at the touch of a button.  Or having your living room filled with the warmth of natural light.
Glass roll up doors open up more possibilities for enjoyment with your family, especially during the summer months.  Practical benefits aside, these doors also look great when paired with modern architecture.
To Learn More About Glass Garage Doors
Get in touch with a member of our design team today.  We are ready to consult with you on glass garage doors or glass panel replacement based on your need.  All of our quotes are no-hassle and no-commitment.
Send Us a Message and We'll Get Right Back To You!